Epic Sunset Spots in Tofino
There is something about watching a sunset that makes you feel alive, grateful and blessed, as the sun delivers a dramatic exit on a perfect day. One of the purest validations of the old saying, "The best things in life are free."
If you're a passionate sunset hunter, you know the elements that come together to create sunset magic:  big sky, ocean, mountains, islands and intoxicating breezes. Now imagine all of that converging on the majestic, rugged coast of Tofino—next stop Japan.
Sound epic? Exactly.
In fact, Tofino is renowned for epic levels of jaw-dropping sunsets. Here are some of our favourite sunset spots.
Cox Bay
We're listing this vantage point first because when you stay at Pacific Sands, this sprawling beach is the first thing you see when you get up in the morning, and the last thing you see as the sun drops into the Pacific Ocean—and as you can see in the photo above and below, often in spectacular style.
You can walk out to the beach, perch yourself on a log, or pick one of these bonus Cox Bay vantage points:
Pettinger Point – Stroll the boardwalk through a towering canopy of old-growth forest to the clearing, then take the rocky trail up to the landmark precipice overlooking Cox Bay, Rosie Bay and Chesterman Beach.
On a surfboard – Enjoy a pre-sunset surf then float and relax into the rolling waves for a sea-level view of the setting sun.
On a hammock – If watching with the least amount of effort is more your style, cuddle up in one of our seaside hammocks to take in the sunset suspended between windswept trees.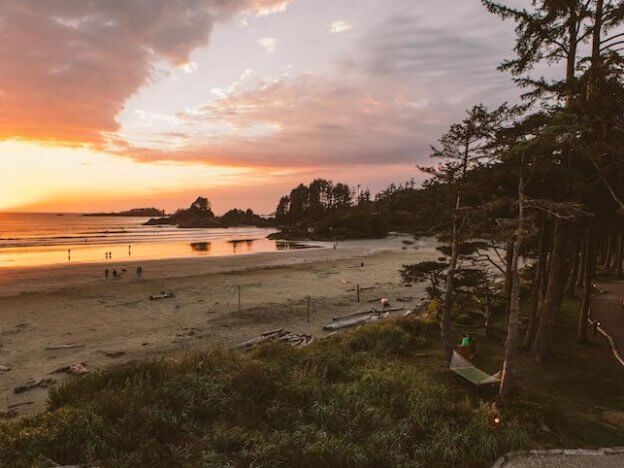 1st Street Dock
If you're in town for dinner and can't make it to the beach for sunset, head to the dock on 1st Street for a beautiful harbour sunset perspective. There are several picnic tables at the kayak ramp, and you may even catch an otter or eagle enjoying the view too.
As for romance, check out this spectacular silhouette shot for a hint that this sunset spot is high on the list of great-places-to-kiss in Tofino.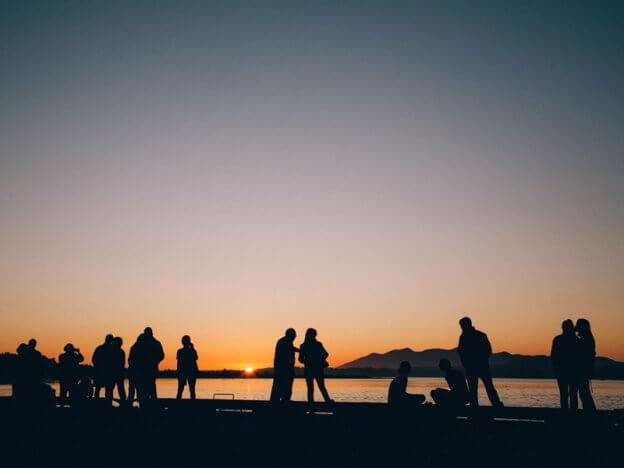 Photo credit:  Jeremy Koreski
Tonquin Beach
Located less than a kilometre from Tofino's village centre, this awesome vantage point is an easy 10-minute walk in on the Tonquin Trail. Simply listen for the ocean and take the stairs down to the beach. Perfect timing for a stroll after dinner in town, and short enough to get back to the car after the sun and light drops.
Park at the Tofino Community Hall, grab a blanket if you have one and follow the signs. The sand is remarkably soft, and as you can see from this stunning photo, the extra effort is well worth it.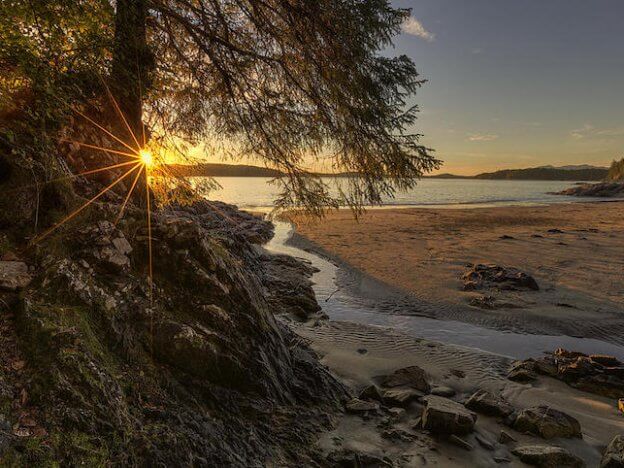 Photo credit:  Mark Kiver
Sunset Cruise
For an authentic local experience by boat, take a Sunset Cruise with Jamie's Whaling Station and Captain Dennis Kay at the helm of his trusty 26′ water taxi. Enjoy a 1.5 hour tour around the outer harbour islands to a lagoon past Lennard Island where you'll get an eagle-eye view of the sun disappearing in the horizon.
According to TripAdvisor reviews, Captain Dennis is quite a "star," complete with entertaining stories about Tofino, the sea and the people. Prices range from $45 for an adult to $30 for kids aged 4 to 12. Find out more information on the tour—to book, call Jamie's Whaling Station at 1.800.667.9913.