Slurp + Stay for the 2019 Clayoquot Oyster Festival
Not only Tofino Storm Watching ramps-up in November, it's also a special time for bivalve-lovers as peak oyster eating and slurping season comes around. This year marks the 21st year oysters take a bow at the 2019 Clayoquot Oyster Festival Gala on November 23rd—an all-you-can-slurp night of indulgence. (Psst! And we've got tickets.)
From a Best Oyster Dish contest between local chefs to a messy but entertaining Shuck and Slurp Relay, it's a legendary night when the community comes together complete with colourful (and totally optional) "ocean accented" cocktail attire. This year's event features The Midnights—a 12-piece funk and soul band to shake up the dance floor.
Gala organizer, Bobby Lax, summed it up declaring, "Music, food and people is what makes the night.

"I've been involved with the Festival since 2010 and have always loved when it all comes together, and you look around and everyone looks so beautiful. It's just this great mix of people sharing a love of bivalves and Tofino, and letting themselves go a little, including things like our face painting station for some fun, extra ocean touches.

"We have BC beer and wine sampling along with some delicious canapés from 6-7pm, so get there early. And to get you safely back to your accommodations, Pacific Sands is sponsoring a free shuttle service. Which means you get to relax and enjoy everything about this indulgent evening!"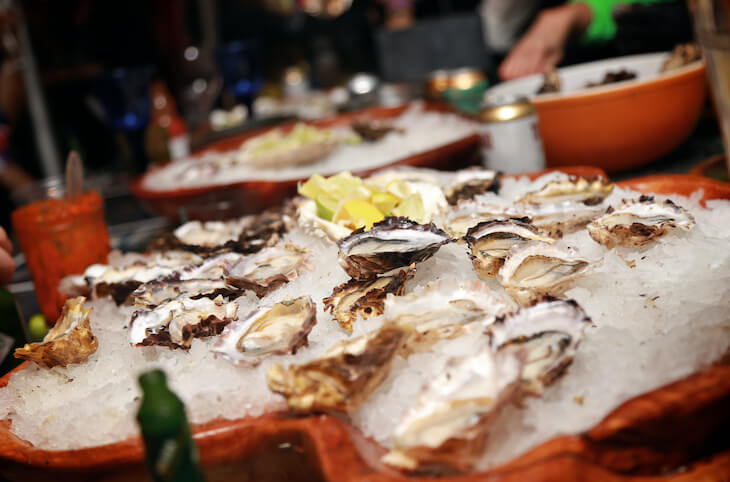 Let's talk November 23rd?
The 2019 Clayoquot Oyster Festival Gala on November 23rd is almost sold-out, but we have some tickets with your name on them! So grab your oyster-loving friends and contact us to reserve your tickets before they're snapped up. We also still have some beachfront and ocean view suites available, plus our Pacific Sands shuttle will get you to and from the event. It's like a full-circle festival moment, however tickets are limited so jump on it!
Up your oyster IQ
Often described as the "purest, most unadulterated taste of the sea," learn more about the what/why/how of oysters with our Top 5 Oyster Facts That May Shellshock You. From health benefits to why oysters taste better in the winter, our region harvests over 50,000 gallons of Pacific oysters annually. That is a lot of culinary consumption?!
Come see what all the fuss is about.
Contact us to reserve your event tickets and book your accommodations.
Photo credits: Jill Nancy