Resort Memories with Long-time Staff: Chris & Cathy
Our 50th Anniversary would not be complete without spotlighting some important, long-time members of our Resort family. Read on and get to know Chris Bruno and Cathy Neufeld as they share some of their Tofino moments and memories over the decades at Pacific Sands.
~~~~~
Chris Bruno–Renaissance Handyman
Having just celebrated 20 years at Pacific Sands last August, Chris has been a big part of the evolution and maintenance of the Resort, including working closely with original owners, Dave and Bill Pettinger.
"I originally came to Tofino for the summer, and the Pacific Sands head housekeeper at the time got me a job in maintenance," reminisced Chris. "That was when I had the pleasure of working with the Pettinger family who were very respected in the community. Some of my favourite memories were with Bill Sr.

"We had three maintenance guys and every day at 11:45am, we knew that if we saw Bill Sr.'s Cadillac roll up to the back of the office, we were going for lunch down at the Tofino Marina. That happened most days. We're talking countless burgers and storytelling sessions with Bill Sr. until his son and General Manager, Dave, caught on that we were consistently gone for 2 hours and kiboshed it."
But then, the occasional Happy Hour at 3pm made up for it.
"I used to work with Cathy's husband, Errol, and many times we'd get invited up to Bill Sr.'s house for Happy Hour. Some great memories, but I should mention we got a lot of work done too!," insisted Chris.
Of course, Chris is laughing as he tells these stories. It's that easy-going style that has prompted many guest accolades over the years, including "He's as handy as he is friendly." Now heading up our maintenance team as Property Operations Manager, Chris has a place in town and he and his wife have a house in Maple Ridge near Vancouver, where he's back and forth over the weekends.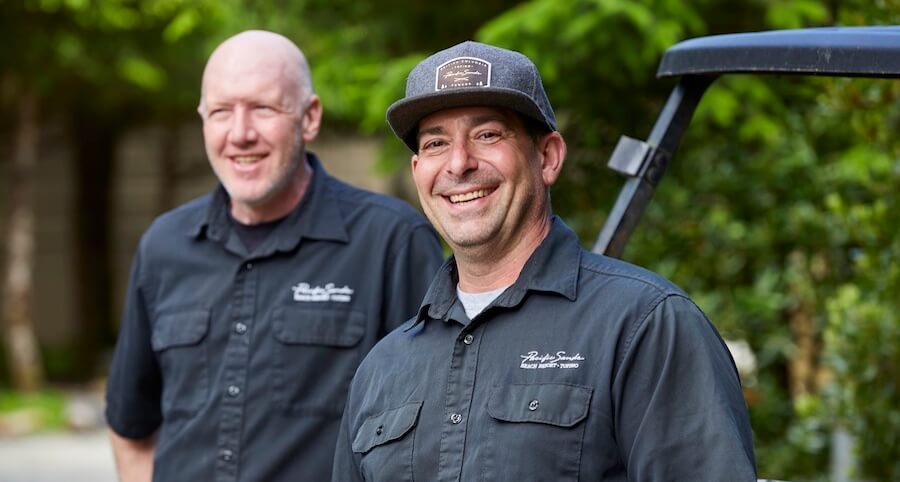 Cathy Neufeld – The Queen of Clean
If you've crossed paths with Housekeeping Manager, Cathy, during a vacation at Pacific Sands, you'd likely remember her head down, hardworking focus that suddenly bursts into a smiling greeting. She's all heart with a passion for doing it right, and she's been a part of our team for coming up 30 years.
"I was working in Jasper, AB when I met my now husband, Errol. He was from Port Alberni. So, I applied for housekeeping at Pacific Sands and started in August of 1994," Cathy recounted.

"There were only 20 of us in housekeeping at the time—now 50—and the early days of working with Dave, Bill, and Joan Pettinger was a family atmosphere I'd never experienced before. And it wasn't all work! Joan was lots of fun. She and Bill Sr.—who I called Mr. Bill—would winter in their motorhome in Nevada. Errol and I met up with them there on a vacation in 1997. Such a great memory."

"After Joan passed in 1999, Mr. Bill got into various hobbies, including working with jewelry and rocks. He made necklaces for everybody. I still have mine and I'm planning on wearing it for the 50th Anniversary party. Mr. Bill also became the unofficial security for the property, driving around in his big Cadillac checking on things. When we were building the Beach Houses, we got him a golf cart, but he still preferred his Caddy."
Errol worked for Pacific Sands as Head Engineer for 15 years, and from 1995-2000, he and Cathy lived above Guest Services as on-call managers, where they occasionally had guests climb the back stairs and walk into their house looking for a payphone or the "bar upstairs." They now live in Ucluelet where they sometimes enjoy restoring cars together.
"Around 2010, we restored a 69 Mustang for a couple getting engaged at Pacific Sands. It was a surprise for the bride," recalled Cathy, "and the license plate said: Mindy would you marry me?"
When Cathy talks about what Pacific Sands means to her, you can't help but feel her deep love for the place and the people.
"It's very humbling when returning guests remember me. Many I recall too because they like staying in the same suite, year after year.

"I've also worked with so many people at this Resort from around the world. I'm not the avid traveller, but I get to travel through staff food and experiences. It's quite honestly my second family. Which is why it's hard to fathom leaving, so I will keep going as long as they'll have me."

"I feel honoured to have been a part of decades of history at a place like Pacific Sands."