If Our West Coast Waters Could Talk: Historic Vancouver Island Shipwrecks
The "concept" of Storm Watching was made in Tofino, and every October through April, it returns on its own terms. More than just a season, Storm Watching is a thing to do, a state of mind. A much-anticipated spectator sport that you have to see to believe. And what makes it so spectacular is the power and unpredictability of the Pacific Ocean.
But long before there were resorts dotting our majestic shoreline—complete with cozy fireplaces, double-paned windows and guest rain-slickers—there was an entire coastal economy driven by ships, dating back to the late 1700s. We're talking big, respected, sea-tested ships trying to navigate the wild, west coast of Vancouver Island, and ending up lost to high waves, lashing winds, unforgiving reefs, and misadventure.
In fact, it is said that a wrecked ship rests on the seabed for every nautical mile along our coast.
And as shipwreck buffs can attest, each one has a story—many still undiscovered.
Let's go deeper with four ships and stories—in chronological order—and the historical sites, trails and artifacts you can see today:
1811: Tonquin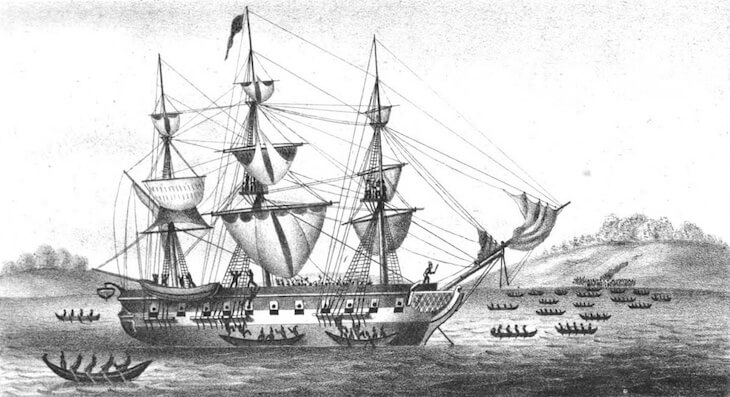 The 29 metre (95 foot) Tonquin—owned by New York millionaire John Jacob Astor—was nicknamed the Mayflower of the West Coast because it brought settlers from New York to the Pacific Northwest. It landed at the mouth of the Columbia River in what is now Astoria, Oregon, and in 1811, was headed to Alaska on a fur-trading expedition when it disappeared.
According to First Nations history, the Tonquin was attacked after a bit of a dramatic "dust up" between the ship and locals. There were no survivors. The ship sank somewhere off Tofino's coast, although its exact whereabouts remained a mystery until 2003, when an anchor with distinct Tonquin-vintage markings was discovered.
Due to storm surge and tides constantly shifting the seabed of Clayoquot Sound, the actual ship remains undiscovered, however the anchor is now on display in Tofino. The beach overlooking the alleged wreck site has been named Tonquin Beach and the picturesque Tonquin Trail above the beach features a lookout into the unknown.
1905: SV Pass of Melfort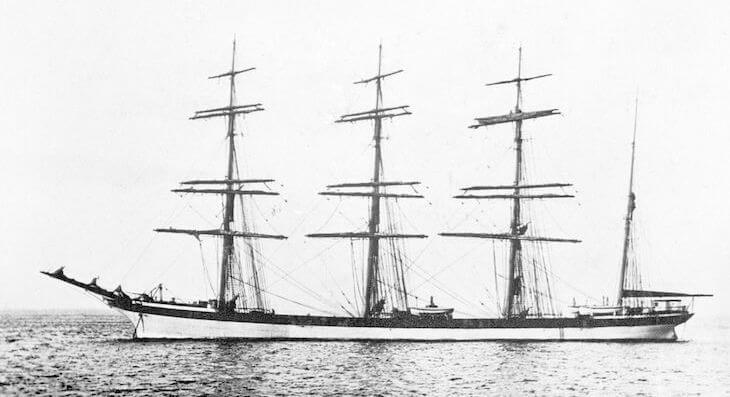 Built in 1891, the British, four-masted, steel sailing vessel—Pass of Melfort—was a 91 metre (300 foot) beauty. It's believed a number of her crew were stricken with malaria in Ancon, Peru, when the shorthanded ship continued on its voyage to Port Townsend, Washington.
On Christmas Day in 1905, an extreme southwest gale at the entrance to Strait of Juan de Fuca drove her sails towards the rocky shores of Vancouver Island. The ship was forced aground by high waves, smashing into the rocks in Barkley Sound near Amphitrite Point and our neighbouring Village of Ucluelet. All on board were lost.
The Pass of Melfort shipwreck inspired the creation of the Amphitrite Lighthouse in 1906, and today when exploring Ucluelet, you may happen upon Pass of Melfort Road.
1906: SS Valencia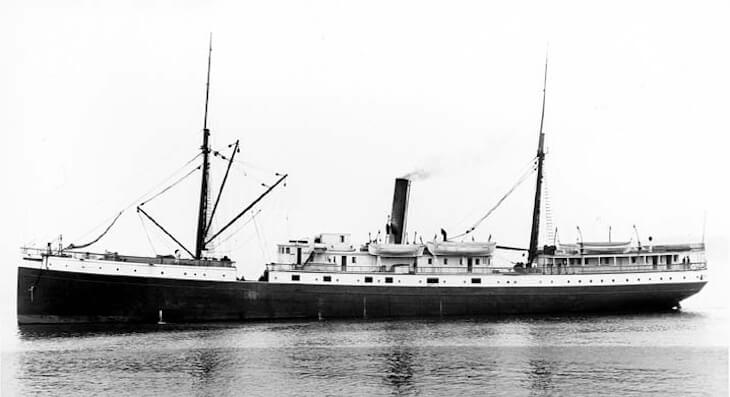 A handsome, iron-hulled, 77 metre (252 foot) passenger steamer, the SS Valencia was built in 1882 as an ocean liner between Venezuela and New York City. After surviving an attack by a Spanish boat off Guantanamo Bay, Cuba, the Valencia was sold to the Pacific Steam Whaling Company where she served between San Francisco and Alaska, including periodic stints in the Spanish-American War as a troopship to the Philippines.
In January 1906, she took over for another steamer that was undergoing repairs. The scheduled route was San Francisco to Seattle. The weather took a severely stormy turn for the worst, and unable to make celestial observations, the crew lost positioning and unknowingly missed the turn to the Strait of Juan de Fuca. The Valencia struck a reef 18 km (11 miles) off of Vancouver Island around Cape Beale. There were 37 survivors, but 136 people perished in one of the most tragic maritime disasters in Canadian and U.S. history.
Between 1786 and 1906, it is estimated that close to 70 ships were wrecked around that same area. The Valencia convinced Canadian authorities to build a lighthouse at Pachena Point in 1907. And as protection against further catastrophes, the overgrown telegraph route was transformed into a lifesaving trail for shipwrecked mariners, complete with wooden shelters.
Today, that 75 km (47 mile) route is known as the West Coast Trail, preserved for recreation and historical purposes by Parks Canada as part of the Pacific Rim National Park Reserve. The 30 metre (100 foot) cliffs above the shipwreck have been named the Valencia Bluffs. From there, the rusted wreckage of the Valencia can still be seen in the waters on the rocky shore.
1930: HMCS Thiepval
One of twelve Battle-class naval trawlers commissioned by the Royal Canadian Navy during the First World War, the HMCS Thiepval served Canada's east coast on escort and patrol operations. The 40 metre (130 foot) trawler was relocated to the west coast in 1920, decommissioned, and transferred to the Department of Marine and Fisheries as a patrol vessel for search and rescue on the west coast of Vancouver Island. She also policed the waters for U.S. fishing boats and among other things, was known for intercepting rum-runners near the Alaska border.
In 1923, the Thiepval was recommissioned by the Royal Canadian Navy, and in 1924, she visited the Soviet Union and Japan to help support a round-the-world flight attempt by Major Stuart-MacLaren.
Following her trans-Pacific voyage, the Thiepval returned to patrol duties on the west coast of Vancouver Island, but in 1930, struck an uncharted rock in the Broken Islands of Barkley Sound. She came to a rest on an underwater rock ledge, then slowly sunk in the channel that now bears her name.
In 1962, three years after the wreck had been located, divers recovered Thiepval's deck gun. You can now see it on display in Ucluelet.
More on our storied history
For more on the history of Tofino and Clayoquot Sound, including a collection of artifacts and archive materials on fishing, logging, whaling and First Nations heritage, explore the Tofino Clayoquot Heritage Museum on your next visit.
Banner photo: Shipwrecks along the West Coast Trail, Canada – Kevin Light Photography