LOCAL CHARACTERS: Surfing with Harold Sadler
In a place like Tofino where surfing is an obsession, the locals not only thrive in our wet, temperate rainforest, they have saltwater running through their veins.
Named Canada's Surf Capital for a reason, Tofino has raised hearty surf champions and attracted many enthusiasts, creating a surf culture where good waves often mean work can wait. That's certainly how long-time local Harold Sadler rolls, and when asked to share his family's pioneering journey, he said, "Sure, old surfers love to talk story."
Divine Detours
It was 1964 and Harold's parents, Ruth and Jim Sadler, were living in Victoria, BC, excitedly making plans to be missionaries in New Guinea. They were training to head out, but political instability shut down that idea, so they went to a bible camp at Pachena Bay (on other side of Ucluelet and Barkley Sound) where they learned to bellyboard.
When they got back home to Victoria, Jim spotted a surfer magazine (one of the originals) and almost fell over seeing people standing up and riding waves. Ironically, he didn't realize surfing was just starting up in Canada 1.5 hours away in Jordan River, but he devoured that magazine from cover to cover and used his carpentry skills to build his own surfboard—which he called Queen Mary. When Jim returned to Pachena Bay to help build a central, 5000 square foot building for campers to gather, he took Queen Mary (and Ruth) and taught himself how to surf.
Jim heard there was a weekend surfing contest being held in Tofino, so off they went, entered the contest, and Jim took 2nd place. He swears he could have gotten 1st, so he made up for it and took 1st place in the next two contests.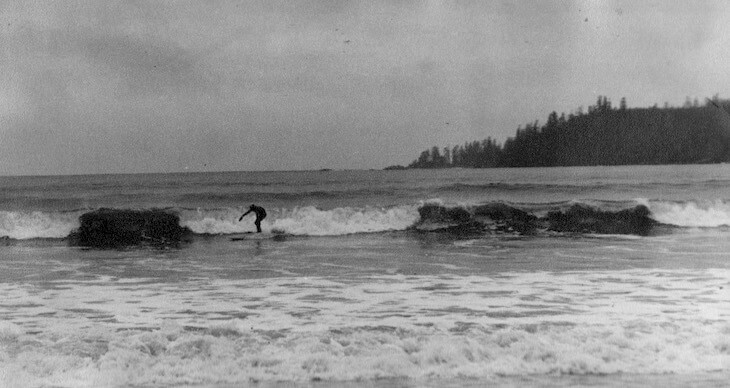 Putting down roots
After exploring Tofino on those trips, Ruth and Jim fell in love with the area and the next part of the plan started to take shape. Jim secured a contracting gig and came to Tofino first, bringing his brothers. They built the original structure where Epic Pharmacy now sits. Then in 1967, he moved up Ruth along with Harold, his younger son Ken, and baby girl, Cindy. The family settled in and started to get to know the rustic little town, especially the local surfers.
"I grew up thinking that spending four seasons at the beach was perfectly normal. That's just what we did," laughed Harold. "Dad got the whole clan out on the water using chunks of foam to bellyboard.

"Wetsuits were hard to come by; we just had rubber jackets and frigid water from the waist down. We were all completely numb. Mom had to help with the zippers because our hands wouldn't work, but there was always a nice big fire on the beach. We'd put food in tinfoil, drop it in the fire, head out in the surf for an hour or so, then come back to cooked hamburger, potatoes, etc.

"As soon as we were old enough to be left alone on the beach to eat or warm up, Mom and Dad would head back out surfing. It was our way of life."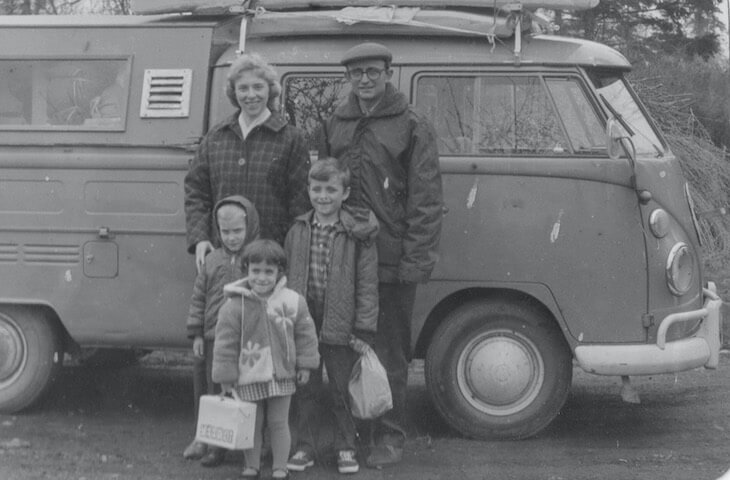 Getting the hang of it
Harold got a real surfboard around 10 years-old and his first bought of hypothermia in his late teens when the original, not-so-efficient 'farmer john' wetsuits came on the scene. As Harold deadpans, "After that, the queue for us to come in from the waves was uncontrollable shaking, and typically, lips so frozen we could not talk."
(Thankfully wetsuits have come a long way?!)
"When I was little, I remember wishing I lived in the city where you could do things like go to movie theatres," said Harold, "but as I got into surfing and spent time with my Dad on our boat going up and down the coast, I knew Tofino was where I wanted to be. In fact, growing up I didn't know anything about things like hockey. It was all about the ocean."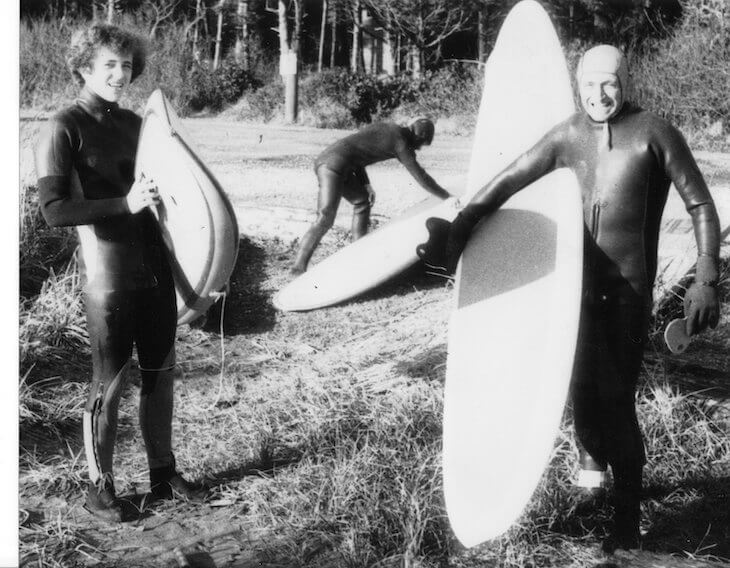 Tofino's surf evolution
In the 80s, there wasn't really anyone around for Harold to surf with his own age except his brother and a few friends, then in the mid-90s, he started to see a lot more surfers out on the water.
"A couple of local brothers, Raph and Sepp Bruwhiler, were getting better and better. They got sponsored, CBC made the documentary 49 Degrees, and the word was out," recalled Harold. "Since then, locals like Pete Devries have made headlines, including winning the 2009 O'Neill Cold Water Classic right here in his hometown. Pretty cool."

When asked what hasn't changed since he was a kid, Harold said, "Great waves, beautiful beaches, unpredictable weather, and in many respects, a lot of the same kinds of people are still here. End-of-the-road types, including a fun collection of what I call 'delightful weirdos' like trappers, miners, hermits, and crazy surfers like my Dad who can't wait to paddle out on a 20-foot swell in Florencia Bay.

"Sure, the population has grown and there are some people that have been here forever, but I feel blessed every time I paddle out with new, young people who are here to build their life. It's bringing a fresh vibrance to the area.

"What's funny is that for decades, surfers were considered one step above hippy environmentalists, and now it's so mainstream that the town and tourism are marketing Tofino as a surf destination, including promoting October as Surf Month!"
New Generation of Sadlers
One Sunday in 1990, Harold walked into church in Ucluelet, which was in the basement of the legion, and there at the piano was his future wife, Melody.
They spent one winter in Victoria, circled back to Tofino, and never left. After three children, Melody decided she wanted to learn how to surf. She picked it up easily, as did their middle son, Andrew, who often heads out on the water with Harold to Cox Bay, Long Beach, or wherever there are good waves.
Harold and Melody's other sons, Matthew and Simon, never caught the surfing bug, but enjoy lots of other outdoor activities including hiking and rock climbing. The family now runs Summerhill Guest House.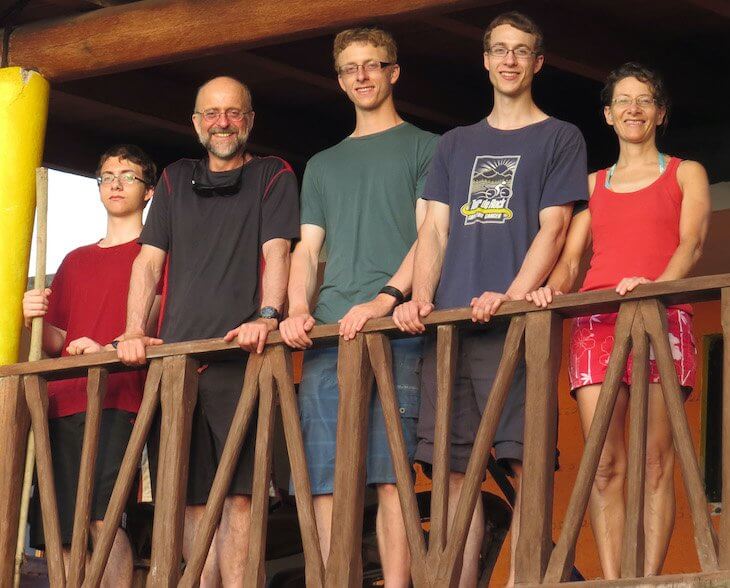 Next wave
Harold is closing in on 60 and still surfing as often as he can. While he's had a few minor injuries over the years, he scoffs when people call surfing an extreme sport.
"Surfing is about riding, falling, and splashing in the water! Lots of people surf well into their 70s for that reason.

"Dad passed in 2006, but Mom still lives here in Tofino. She surfed until she was 80, but she recently found an old wetsuit and is getting ready to head back out on the water at 83."
We look forward to seeing Harold out riding with his Mom, Ruth. And something tells us she will be setting a new bar for the decades of surfing he gets to look forward to.