Nordic Spa-ing Tofino-Style
Hot, cold, rest, repeat—that's the mantra and holistic routine behind a traditional, wood-fired Nordic sauna experience. See what we mean on your next visit with our oceanfront sauna by Tuff City Saunas, complete with panoramic views of Cox Bay.
From winter storm watching to summer wave gazing, it's an all-season, healthy, and refreshing way to immerse yourself in natural heat and the rustic "cryotherapy" of the Pacific Ocean.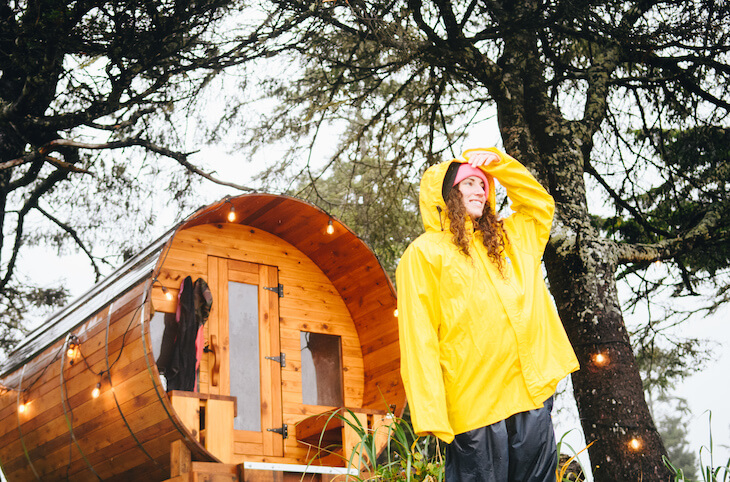 The Nordics Land in Tofino
To get the story behind Tuff City Saunas and the sweaty, steamy, chilly health benefits of Nordic spa-ing, we talked to founder, Jordan Hanthorn.
"I fell in love with saunas in Thunder Bay, Ontario where I went to school," said Jordan. "The culture I discovered then and there was all about health, wellness, and social connectivity. Basically, everybody went to the sauna to sweat and talk.
"In 2019, I came to Tofino to learn to surf. I was driving boats as a tour guide and kept thinking about my sauna roots, realizing Tofino is steps from the world's largest salt lounge and cold immersion tank. Why not create a Nordic spa experience in a rugged, west coast way?"
Jordan made it happen and Tuff City Saunas now operates private barrel-sauna rentals at three Tofino locations, including right here at Pacific Sands. Guests and Tofino visitors can book 2-hour sessions for $199 for up to 6 people.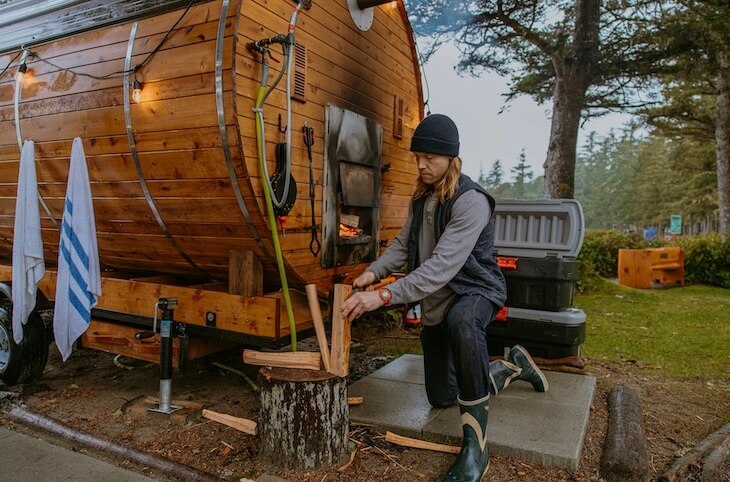 How to Spa the Nordic Way
Tuff City Sauna's wood-burning barrel-saunas replicate the authentic, 9,000 year-old Finnish system of splashing water over hot rocks to create steam and gentle, intense heat—then comes the cold part.
"I like to think about sauna sessions similar to a game of ice hockey: 3-periods with an intermission in between," explained Jordan.
"The average session consists of 3 rounds with 15-minute intervals. The first round in the sauna is the most intense as your body adjusts to the high temperature. After 15 minutes, head outside to cool down naturally, or take a dip in the ocean, or use the provided cold shower. After you've chilled for 15 minutes, it's time to really chill by relaxing, drinking water, and breathing in the therapeutic energy of Tofino's rainforest air. Then re-enter the sauna for round two!"
What's included?
• The sauna will be "fired-up" and ready for your group's arrival (up to 6 people)
• Tuff City staff will walk you through best practices and fire management using supplied firewood so you can control your sauna fire and heat
• A cold shower for cold-water therapy and pre/post sauna cleansing
• Aromatherapy essential oils from Clarity Apothecary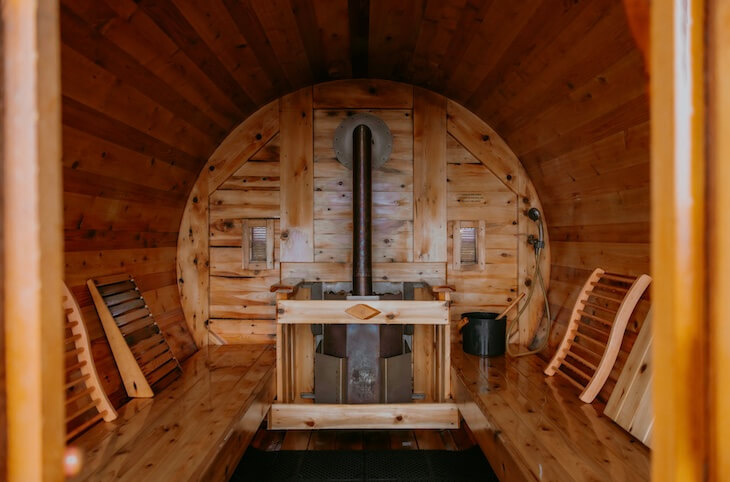 To Your Health
Besides being a great way to relax physically and mentally, sauna heat can release harmful toxins, increase circulation, improve cardiovascular fitness, and strengthen immunity. Add in the shocking sensation of cold water cryotherapy and your blood vessels contract, increasing your metabolic rate, soothing overworked muscles and joints, as well as toning your skin.
Ready to take the plunge?
Book a session with Tuff City Saunas for up to 6 people on your next visit, and for the ultimate, blissful Tofino spa day, follow up with a treatment at our onsite By the Sea Massage & Bodywork.
Photo credits: @sunsetamedia @kendraclamar @ryanell_