Spotlight on Four-leggeds for October Pet Month
When it comes to four-leggeds in Tofino, just watch their eyes light up with joy when they catch a whiff of Cox Bay and all the endless things to sniff and splash. Add-in dog dishes, towels, and treats on arrival, and your four-legged will tell you it simply does not get more fun, pet-friendly and welcoming.
It's the joy those furry faces give us every day that we're celebrating in October, declaring it once again—Pet Month—including an Instagram contest, photo contest focus, and donation to our local pet heroes at the CARE Network.
How pet-friendly?
Pacific Sands has special pet-friendly suites ready with dog amenities—along with relaxed, Tofino-style comforts and fully-equipped kitchens for humans—all steps from the stick-throwing action in Cox Bay. There are pet wash stations located along the beach paths for an easy, post-beach rinse as well as biodegradable dog bags and disposal containers.
CARE Network
Pacific Sands has been built on family, we understand how your four-legged friend is part of yours, and we especially get how great it is to bring them along when you travel. Which is why we know you'll agree that supporting the animal lovers at our local CARE Network is a good thing. For the month of October during Pet Month, all Pacific Sands Pet Fees are being donated to the CARE Network.
Founded in 2011, the CARE Network (Coastal Animal Rescue & Education) helps protect and improve the quality of life for over 500 animals annually around our remote, Vancouver Island coastal communities, including stray, abandoned and sick animals as well as population control through spay/neutering. They also provide a year-round animal food bank—and for pet lovers needing daycare and boarding services— "The Dog Patch" is a trusted resource for pet care that helps fund the CARE cause.
Instagram Contest – enter by October 12th
In celebration of Pet Month and pooch paparazzi, we've partnered with the handsome, Instagram sensation, @mrbentley_thedog, to offer one lucky winner a pet-friendly vacation at Pacific Sands, including 2-nights in a Luxury Two Bedroom Beach House for up to 6 people, and of course, up to 2 four-leggeds. Check out the contest details and how you can enter to win!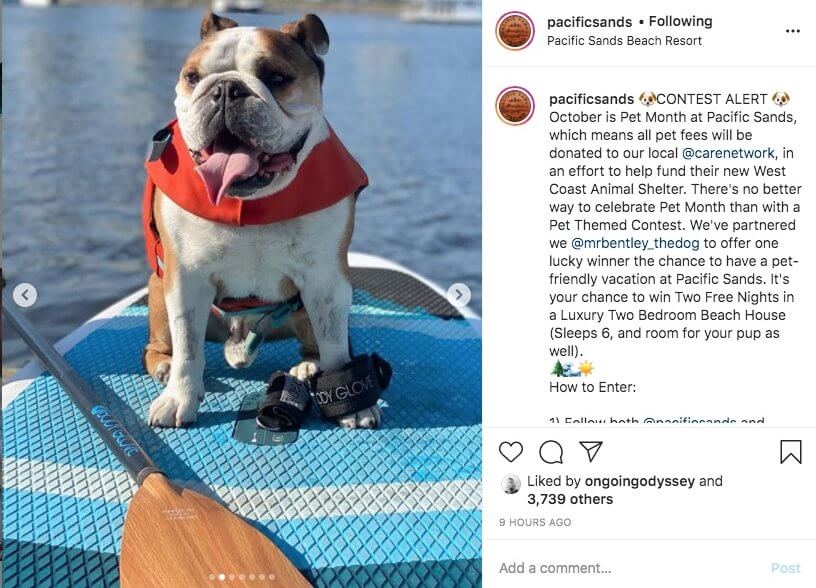 Pet Photo Contest – enter by October 31st
Our popular Monthly Photo Contest is a shutterbug showcase, when amateur photographers are invited to show their contest-worthy shots for a chance to win 2-nights in a One Bedroom Oceanview Lighthouse Suite, including complimentary wine on arrival.
For the month of October, we're asking all guest photographers to focus the lens on their pets. Send us your pet shots from a recent stay, or if you're vacationing with us this month, rally your furry models for a sandy shoot and enter by October 31, 2020 for a chance to win the Prize Package and bragging rights!