LOCAL CHARACTERS: Kelp Ambitions with Stevie Dennis
As an Ahousaht member of the Keltsmaht First Nations, Stevie Dennis grew up on Tofino waters. In fact, he had boats before he had a car. Proud of his heritage and passionate about all things land and sea, Stevie thrives on giving back, so when the idea of creating a sustainable business around kelp presented itself, he jumped in as co-founder of NAAS Foods.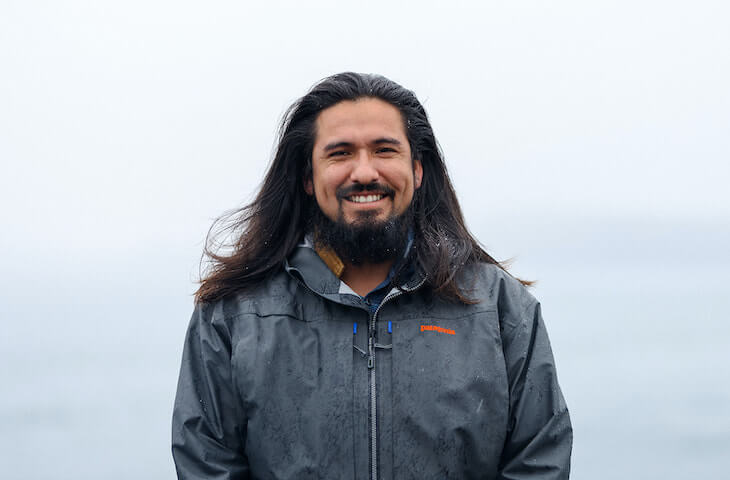 Located on Campbell Street in Tofino, B.C., NAAS Foods sells fresh seafood along with a signature line of kelp products that are so uniquely delicious, it will make you look twice at a floating kelp bed.
PURPOSEFUL PURSUIT
When asked where the idea come from, Stevie excitedly explained, "I met my now business partner, Jordan White, while working at a local fishing lodge. He had worked with a couple of other companies harvesting kelp, and he started talking to me about the possibilities of creating a kelp business in Tofino.
"At the time, I was assisting the Ahousaht with managing the shoreline—sort of like a coastal parks ranger—and this idea of creating a business around sustainability really resonated. Jordan and I knew fishing and the seafood business, but when it came to marketing kelp, we were not sure where to start, so we took the plunge by creating a garden fertilizer made from harvesting Giant kelp. We packaged it up and hit the road to sell the concept around Vancouver Island, but despite our best efforts, it didn't really fly.
"So, then we thought about Bull kelp, how great it tasted, and what we could do with it. We tried drying it and discovered a great, flavourful substitute for salt. Then we smoked it and found it tasted incredible on foods like steak, crab, or simple eggs. So suddenly, not only was kelp plentiful, but we also found ways to make it delicious. We knew we were onto something."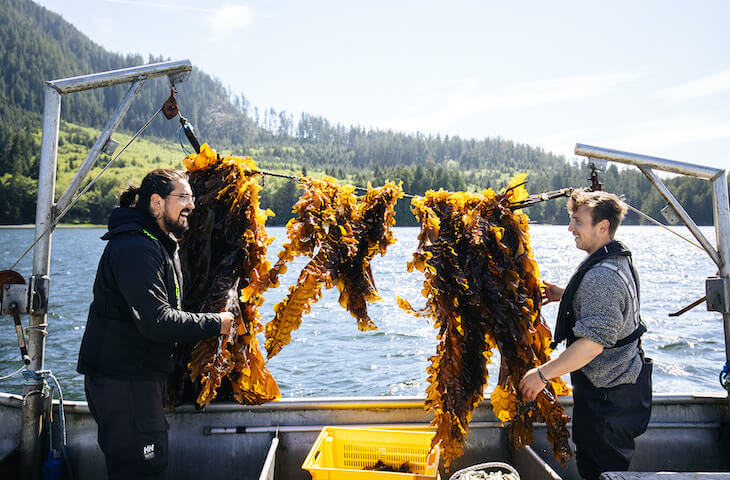 THE WHY BEHIND 'NAAS'
When the newly formed team started talking about naming the company, "naas" came up due to its First Nations definition of (1) day/daylight; (2) creator; and (3) reality.
Stevie reflected, "I talked to my elders—including my mom and the chief—and they too thought it was very fitting as the food being created by the land is giving back while engaging and teaching as sustainable product."
It quickly became a family focus with Stevie's sister, Natalee, creating the art for the logo and packaging. He and Jordan's parents also helped out along with Stevie's nephew and Jordan's sister.
"With the opening of our store-front last year, it's been all-hands-on-deck," declared Stevie with his infectious enthusiasm. "Our kelp flakes and seasonings are starting to really take off, and then there's the fresh seafood. Even just today, my mom was out fishing with me."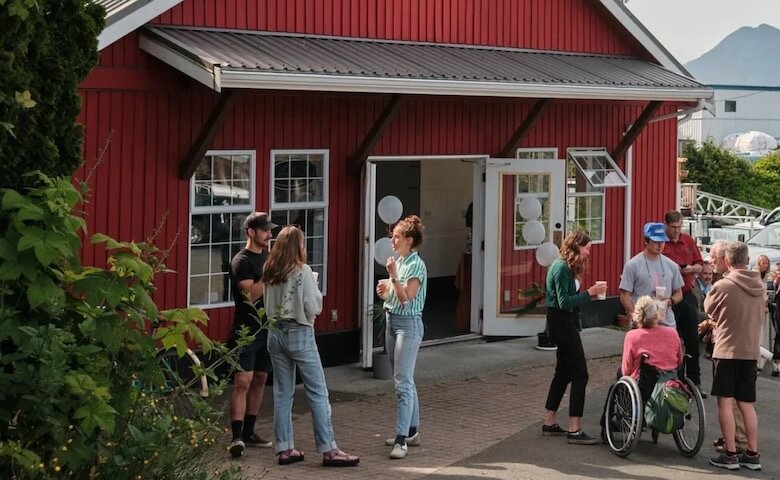 HARVESTING FOR GOOD
The mission and values behind NAAS Foods and how they operate is what sets them apart: Create innovative food products made from regenerative aquatic resources that are convenient, delicious, and most importantly, good for the planet.
Stevie breaks it down with, "We harvest in a way that the kelp can keep growing—kind of like pruning a rose stem and 2 grow back. We harvest the blades, not the stems, so the blades continue to grow and collect important nutrients. And the cycle continues.
"And then, just like many dried spices, we package our products in tins, except it's not like any spice in your kitchen."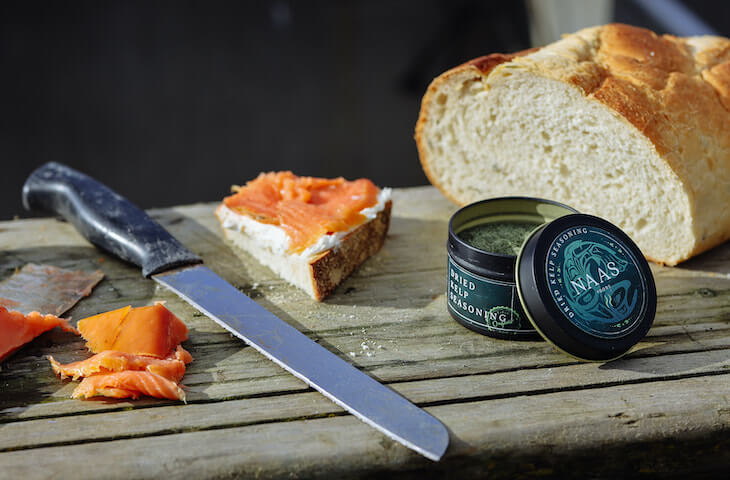 GREEN FOOT FORWARD
With the kelp line starting to get traction online and with retailers and local restaurants—including Tofino's Wickaninnish Inn and Roar restaurant using it in soups and Caesar drinks—Stevie affirmed, "The future is the coolest part."
"We're excited about the company's evolution and are having fun strategizing about what direction we're going to grow in. We're considering creating our own kelp farm, expanding our dried product lines, and basically doing everything we can to lead in an eco-green way, promoting our products through trade shows and wholesalers.
"But first, it's all about getting people to taste and cook with our kelp products, because as soon as they do, they seem to immediately get how good it is and what we're all about."
You can find some fun and tasty recipes on the NAAS Foods website.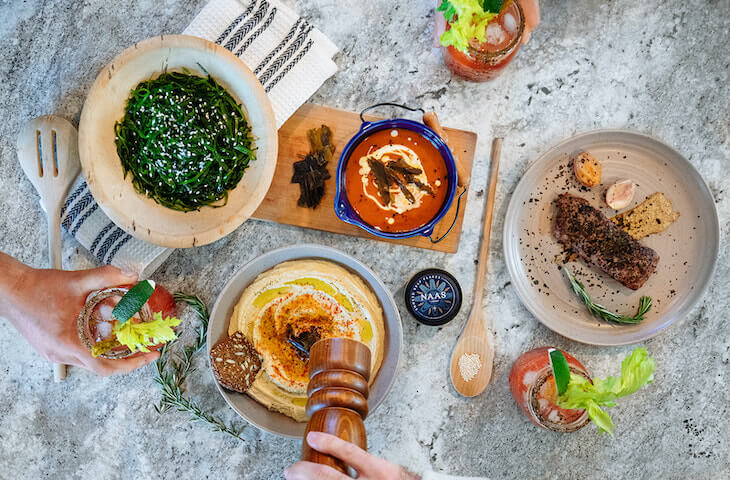 IS KELP THE NEW KALE?
Packed full of dietary fibre, antioxidants, omega-3 fatty acids, and essential amino acids, kelp's nutritional properties definitely qualify it as an up and coming superfood. From vitamins A, C, and E, as well as B vitamins such as riboflavin, niacin, and thiamin—which aid in energy production and maintaining a proper metabolism—Kelp is a powerhouse.