Tofino Surf Guide: Seasons and Beaches
As Canada's Surf Capital, Tofino is renowned for its year-round surf-appeal, miles of sandy surf-able beaches and world-class waves. Whether you're an enthusiastic new rider, a seasoned surfer or happy spectator, Tofino is where you want to be for a surf culture that is so relaxed, wet suits and rubber boots go with everything.
First up, let's talk surf seasons.
As the water temperature remains a cool but consistent level throughout the year (10C/50F), what differentiates the surf seasons in Tofino is the size of the swell. Here's a recap:
Spring (March – May)
As the weather starts to warm up in March, Tofino still gets some residual, larger swells out of the Northwest from the subsiding winter storms. Some spring seasons deliver the bonus of sought-after southern swells towards the end of April and beginning of May. These systems originate from the southern hemisphere, working their way up past Mexico and the Western states, which is great news for everyone from California to Vancouver Island. But typically by May, the wave size starts to die down—perfect for intermediate and new surfers wanting to get some experience before the busy summer season.
Summer (June – August)
A beginner's dream, the summer months are all about sunshine, smaller waves, and ideal conditions for first-timers wanting to take lessons and learn to ride. The summer months usually produce gentle rollers and small to mid-sized wind swells from the west/northwest, with a nice combination of long period groundswell from the south. Although be aware that larger southern swells are always a possibility. Some summer downsides are northwest winds, which consistently howl from noon to sunset, however, this is a non-issue for early risers who get their surfs in before the wind picks up. Crowds also arrive with the nice weather, so line-ups can be a bit busier this time of year, but fear not, it's still not crowded by international standards.
Fall (September – November)
Sssssh! As Tofino locals will attest, fall is the best time of the year to surf! Thanks to the summer sun, the water is the warmest it will be all year, winds switch to offshore (southeast) for perfectly groomed shape, and the beaches start to get less crowded and peaceful. The best part—especially for those who have been patiently waiting for big waves—is the first large swells of the season start to arrive in October, bringing frothy 10+ foot swells. Surf events also line-up in the fall, including Queen of the Peak, the Women's Canadian Surf Championships, held right here in Cox Bay.
Winter (December – March)
Winter is when Mother Nature puts on a show of awe-inspiring power, with wild and raw storms often creating 20 to 30 foot waves. Huge systems from the northwest sweep across the Pacific Ocean on their way down from the Aleutian Islands and Alaska, pounding into Vancouver Island. Winds are still offshore from the southeast grooming the waves to perfection. Seasoned surfers braving the cold waters and stronger winds are rewarded with uncrowded line-ups, epic conditions, and challenge. While this time of the year is not the best for new or beginner surfers, there is always a sheltered beach with smaller waves for those looking to learn. And on days when the waves are too big and unruly to surf, Tofino's favourite spectator sport of storm watching is a celebrated attraction.
Tofino Surf Beaches
With 35 kilometres/22 miles of sandy, surf-able beaches, it's no wonder Tofino has earned Canada's Surf Capital status. Here are the top four surf beaches: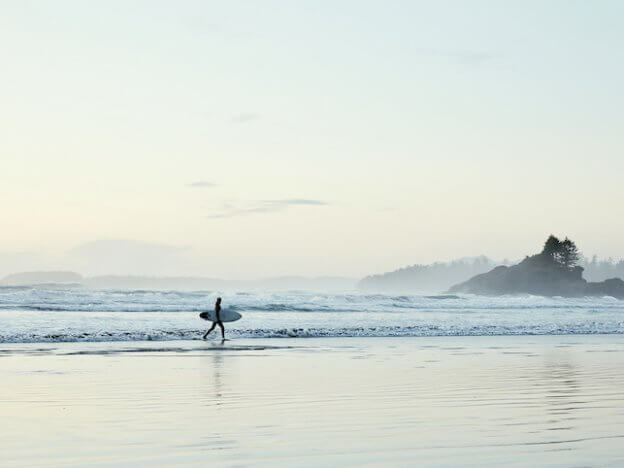 Cox Bay
Located steps from Pacific Sands—and named the #1 Surf Beach in Canada—Cox Bay is the largest in the area, capturing swells from anything coming out of the west, and ideal winds out of the southeast. Cox Bay delivers year-round waves of all sizes, and offers awesome storm watching in the winter when waves are maxed and too washed-out to surf. In the summer months, this beach will be where you find the majority of surfers.
It is broken into three main spots: the "Corner" on the right-hand side (if looking out to the ocean), the "Middle," and the left-hand side known as "Lando's." Most surfers ride the Middle, catching the shifting peaks that work on all tides. Northwest swells will have Lando's working with long lefts that peel down the beach towards the Middle. Southern swells—when angled properly—will hit the Corner just right, providing a nice right wedge that on occasion can be one of the most high-performance waves in Tofino. That said, the Corner should be left to the pros and more advanced surfers who frequent this surf spot, as it comes with a very hazardous and strong rip current out to sea.
Check out the latest Cox Bay conditions on our Surf Cam.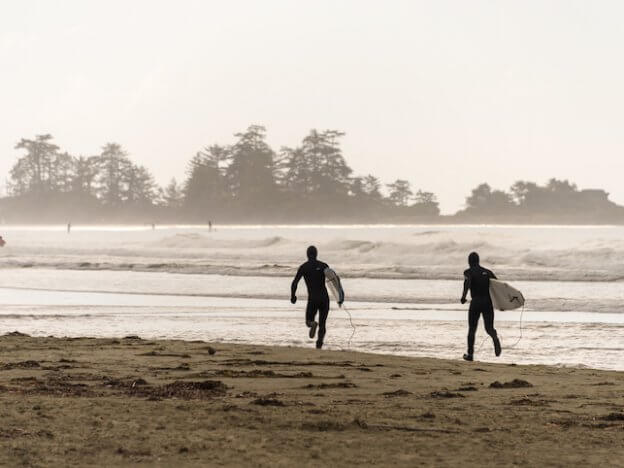 North Chesterman
When Cox Bay is too big, the general rule of thumb is North Chesterman is the next beach to check. It is a bit more sheltered than Cox Bay, so waves are naturally a few feet smaller. The preferred wind is still east or southeast. North Chesterman is a very seasonal beach in that summer waves are essentially flat, while winter delivers reliable swells and it becomes one of the main spots to surf consistently. Being a steeper beach, it can also offer more vertical and shapely waves, with potential for more hollow waves during the winter when the conditions are right.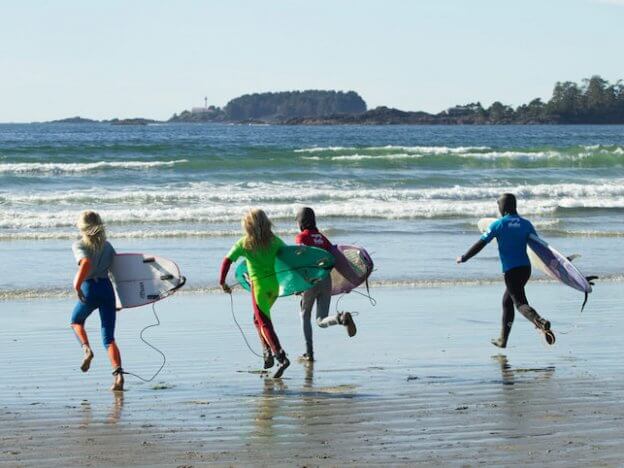 Mackenzie Beach
While surf-able, the break on Mackenzie Beach will only work a handful of times during the winter months. Meaning when big systems pound Tofino, this beach can deliver a spectacular fall-back plan. So when Cox Bay is too big, and North Chesterman is too big, this is the next spot to check as it is very sheltered compared to the other main surf spots.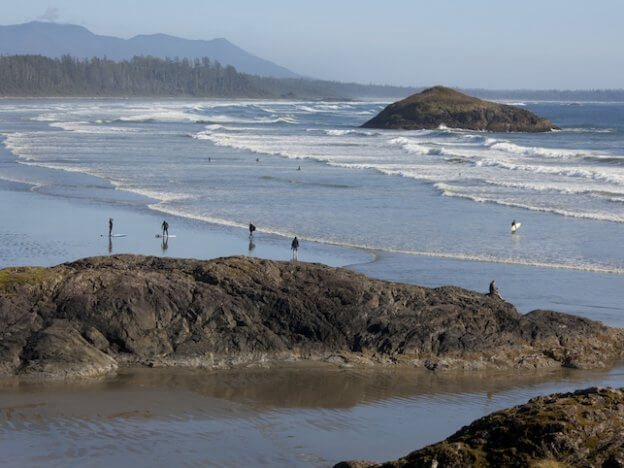 Long Beach
Located about 20 minutes outside Tofino in Pacific Rim National Park, Long Beach is legendary. It's where Tofino's surf culture started to emerge when surfers were drawn to its lively, beach-dwelling scene and dramatic coastline. By 1968, a small surf school began operations on Long Beach and by 1971, the less nail-biting, newly paved Pacific Rim Highway 4 to Tofino attracted a wave of newcomers. The word was out, and by the mid-70s, Tofino was on the map as a year-round, virtually untouched surfer's playground.
Although it is called "Long Beach," it is actually a series of stretches of beach, with the main spot being called "Incinerator Rock"*. Long Beach is a very popular spot during the summer months, as it captures south swells nicely, and offers shelter from the typical onshore northwest winds. During the winter, it can be a trickier spot to surf with mixed swells offering messy conditions.
* Note of caution: there are many strong rip currents surrounding Incinerator Rock.
Getting Here
Whether you take the ferry from the Vancouver Lower Mainland and drive to Tofino, or fly on the growing number of airlines offering flexible flight services, the journey is part of the adventure. From the stunning Georgia Straight and majestic mountain passes, to ancient forests and pristine lakes, check out these travel resources and directions, pack smart, and prepare for awesome.