GUEST STARS: MacDuff
Meet MacDuff, or as he's formally known, MacDuff Austin-Chester, Vice Regal Canine Consort to the Honourable Janet Austin—Lieutenant Governor of British Columbia.
Yes, that is an impressive mouthful of distinguished credentials for a four-legged, but as MacDuff's many fans and followers know, he's led quite the life so far—even in real dog years. Having shaken paws with numerous diplomats and dignitaries at Government House in Victoria, B.C. and in his travels around the province, MacDuff takes his responsibilities quite seriously, but when he gets to Tofino, he definitely shakes it off and lets his hair down.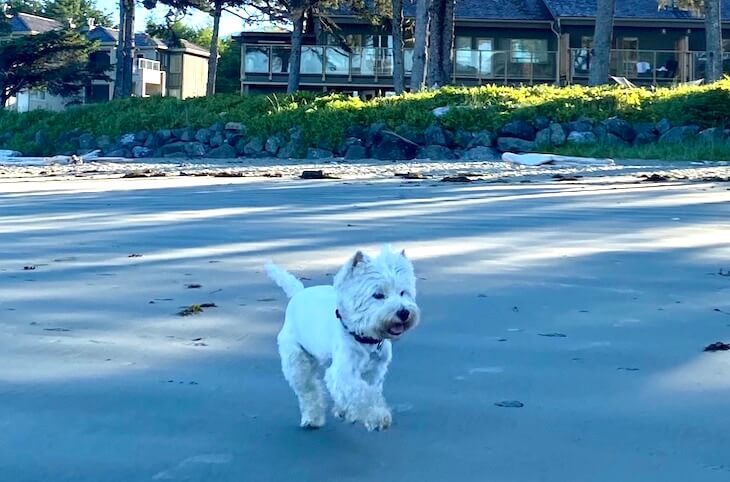 Pup-arazzi
In fact, 11-year-old MacDuff has been coming to Pacific Sands his whole life, making his first round-trip at four months old. As a West Highland White Terrier—or Westie for short—he charms our staff and Cox Bay beach goers every chance he gets. And while he tries to keep a low-profile when he's here, he often gets recognized. The day he arrived on this recent visit, a woman called across the beach, excitedly asking, "Is that Vice Regal MacDuff?!" Of course, he ran to greet his admirer for a quick photo and back scratch.
Surveillance is His Job
When he's not out exploring or playing fetch, he's typically sitting at his Beach House window perch doing surveillance—tracking the comings and goings of humans and other four-leggeds. We're pretty sure he thinks it's his beach, and who are we to debate with such an adorable furry face, because when he's out and about with that confident, friendly little swagger, he kind of owns it.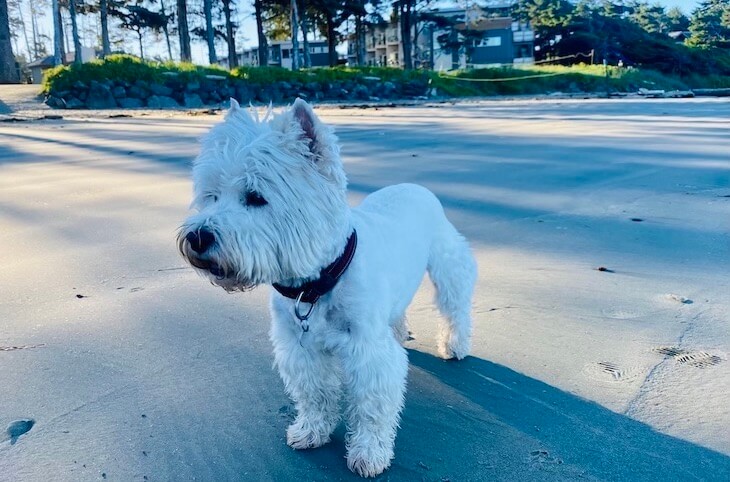 Pet-friendly Approval
His actual, Honourable owner—who has been coming to Pacific Sands since moving to B.C. 35 years ago—reports that MacDuff loves our pet-friendly suites and dog amenities, especially the dog dishes and treats. The poo-bags are a bonus, and the dog towels are appreciated, although he's not a fan of the outdoor showers—or baths in general—and apparently moans at the sight of a shampoo bottle. MacDuff definitely knows his way around the Resort. His prime pup picks include chilling on the cool grass on our waterfront lawn and afternoon naps in a hammock.
More on MacDuff
You can keep up with MacDuff's public appearances on this official website or follow him on Instagram @viceregalmacduff.