Taste of Tofino Wedding + Event Catering
With so many breathtaking backdrops, Tofino is a natural choice for destination weddings and events.
Add in our beachfront and ocean view accommodations, our onsite Rainforest Tent, our exclusive partnership with the planning professionals at Rare Earth Weddings & Events, and our new partnership with the Taste of Tofino catering team, and all you and your guests need to do is show up and enjoy!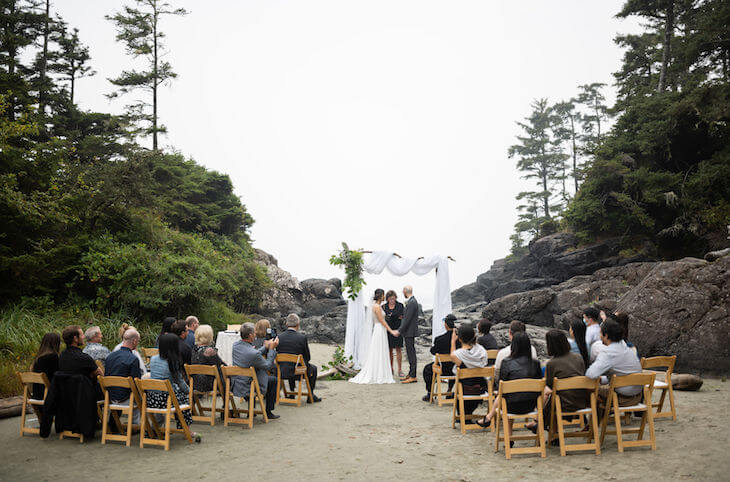 Enchanting Forest Venue
For an intimate setting for 10-40 people under a towering canopy of ancient trees, experience the Tofino-style elegance of our Rainforest Tent. This private and unique venue is steps from Cox Bay Beach, featuring picnic tables, plates, cutlery, glassware, Edison lights, propane heaters, and a barbecue—the perfect set-up for Taste of Tofino to work their culinary magic.
Taste of Tofino hosts wedding and event dinners in our Rainforest Tent as well as private, in-suite catering for Pacific Sands guests.
Owned by Ronnie Lee, who also operates Lil' Ronnie's Beachside BBQ, Taste of Tofino catering operations is overseen by Executive Chef, Raphael Ouellet.
"Raphael and I designed our events menu with the Rainforest Tent in mind—it's such a natural fit for our style of catering," explained Ronnie. "Elegant, yet fresh and approachable food in a cooking station set-up with 3 to 5 courses. We also now offer a fully licensed bar service that can be customized, so it's a truly complete catering experience in an incredible Tofino forest setting."
In-suite Catering at Pacific Sands
For easy-breezy, in-suite dining, Taste of Tofino can cater for 10-20 people in the comfort of your Pacific Sands suite. Perfect for birthday celebrations, family gatherings, or pre/post-wedding get togethers.
The Taste of Tofino Private Catering Menu offers multi-course plated and family style options centred around locally-sourced seafood, produce, and organic meats. And for a catered Cocktail Hour, choose from a customizable menu featuring a selection of fish, veg, and meat dishes. Bar service is also available for the ultimate in effortless waterfront entertaining!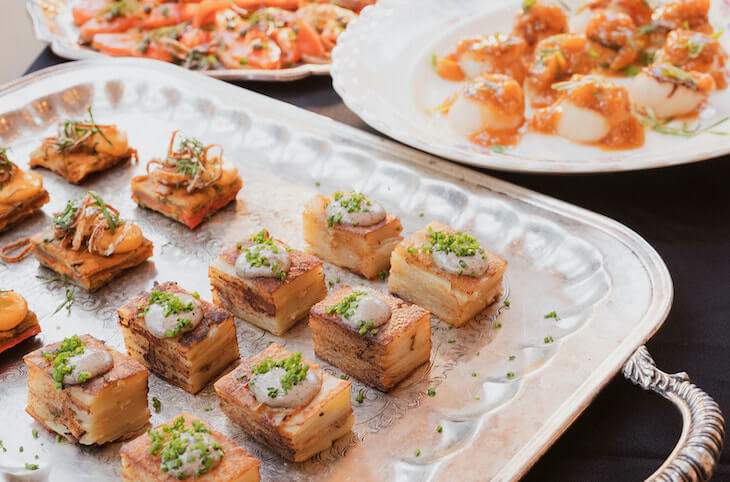 Meet Ronnie Lee: Master BBQ Chef & Entrepreneur
You could say Ronnie's journey to Tofino was part spontaneity, part synchronicity, with a side of hutzpah and mad-BBQ skills.
"It was about 5 years ago and I'd just finished culinary school in Toronto and started my career," reminisced Ronnie. "My childhood best friend from Nova Scotia was living in Tofino. We were talking and he asked me what it would take to do a BBQ restaurant there. I had never even been to BC, let alone Vancouver Island, so I had to Google it to see what he was so excited about. I took one look at the beautiful beaches and cool, island-town vibe and told him I'd be there in 3 weeks.
"It was a time in my life that I wanted to challenge myself, so I packed up my knives, headed west, landed in Tofino, and started working at Wolf In The Fog. I also did BBQ pop-ups on the side, which enabled me to meet and feed the community. That started to get traction and I needed more equipment, so when a friend told me about a wood-fired BBQ smoker for sale in Ohio, I drove and got it, taking a month on the road to do it.
"In retrospect, I took that time to think and map out the next stage of my life, working my way back to Tofino towing the smoker and doing pop-up BBQs in Halifax, Toronto, Ottawa, and Vancouver using a 10×10 tent I'd bought at Canadian Tire.
"That same tent was then set up for serving BBQ in Tofino's Schooner parking lot and when we outgrew that venue, the childhood friend I talked about became my business partner, and we opened Lil' Ronnie's Beachside BBQ on Mackenzie Beach."
Ronnie built up the restaurant team and business, expanding the heated patio—now the largest outdoor, licensed patio on the west coast—including live music 7 days a week from May through September.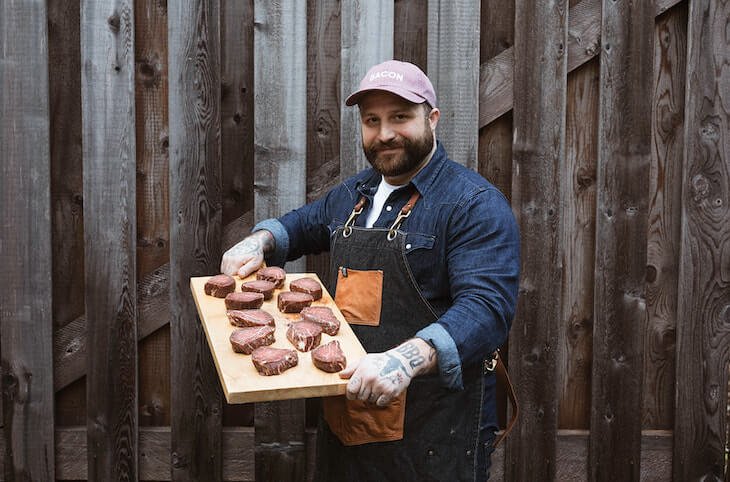 These days, in addition to being a proud new dad, Ronnie is focussed on the catering side of the business with the launch of Taste of Tofino.
"With all the weddings and events in Tofino, we saw the opportunity to take our talented kitchen team to offsite venues including the Rainforest Tent at Pacific Sands. The response from guests to our catering menus and service has been fantastic. Our bookings are growing, and most of all, we're really excited to be a part of making these celebrations extra special."
Have some dates in mind?
More information on weddings and gatherings at Pacific Sands.
Taste of Tofino image credits: Mayfly & June