Enjoy the Journey to Tofino: 5 Stops Along the Way
When you're as spectacularly remote as Tofino, getting here is part of the adventure. And who doesn't love a great road trip? As in load the car, roll down the window, queue up your favourite playlist, and hit the highway.
From majestic mountains and ancient forests, to pristine lakes and frothy, meandering rivers, the 2.5 hour westward drive from Nanaimo to Tofino, British Columbia delivers a stunning surprise around every corner. We suggest taking the slow lane with these 5 stops along the way.
1. Coombs Old Country Market
Yes, those are goats on the roof.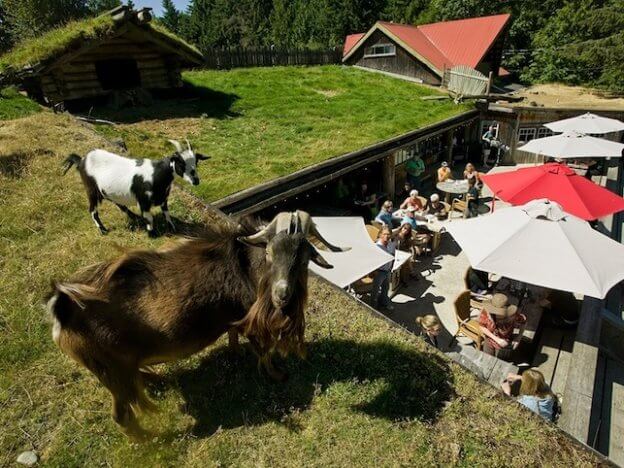 Photo credit: Tourism Vancouver Island
Where is it:  44km from Nanaimo
Since 1973, this landmark has grown from a simple fruit stand to a celebrated market of fresh local foods, shops and artisans. The Old Country Market is not only a great stop for provisions, you can grab lunch at The Market Cafe and check out the famous resident goats who keep the sod-roof mowed.
The Cuckoo Trattoria and Pizzeria is also onsite, bringing authentic Italy to Coombs in a relaxed, delicious way.
If there are insect lovers along for the ride, Butterfly World is also nearby, with over 500 species from all over the globe, as well as turtles, koi fish and random reptiles.
2. Cathedral Grove – MacMillan Provincial Park
A beautiful network of trails around an old-growth forest including 800+ year old trees.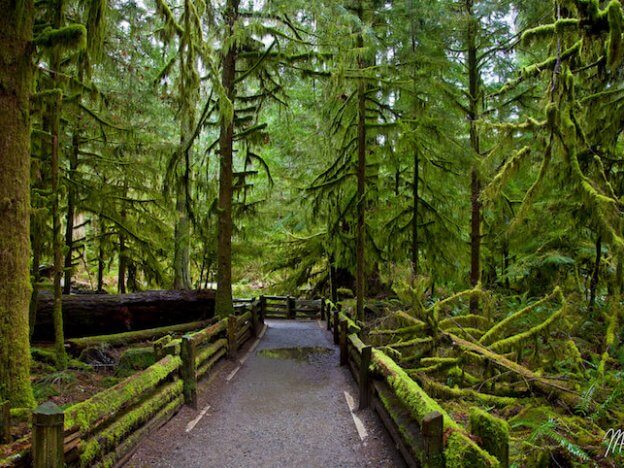 Photo credit: Mickey Shannon
Where is it:  20km from Coombs and/or 66km from Nanaimo
This 136 hectare park showcases an amazing, mossy display of old-growth trees—mostly Douglas Fir—some of which are nine metres in diameter and over 800 years old. Enjoy an easy stroll along the trails for a beautiful pause and preview of more forests to come.
Note: Please be careful parking and crossing the highway!
3. Sproat Lake
Perfect place to stretch your legs, let the dogs out or take a dip.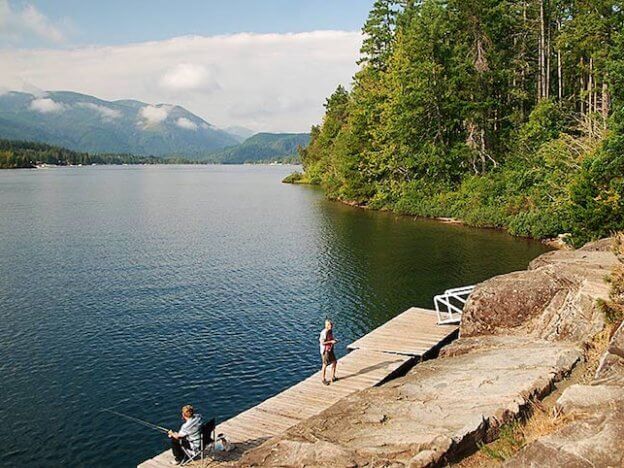 Where is it:  37km from Cathedral Grove and/or 23km from Port Alberni
Spectacular Sproat Lake spans over 25km in length with 300km of shoreline, and is home to the infamous (sadly decommissioned) Martin Mars waterbomber, which sure used to come in handy during BC's forest fire season.
Whether you stop at Taylor Arm Provincial Park, Snow Creek, or Kennedy River Rest Stop, this lake is worth a pull-over and will most certainly take your breath away.
4. Wally Creek – Kennedy River Love Locks
A spectacle of love where couple and families leave a lock to commemorate their stop, complete with this stunning backdrop.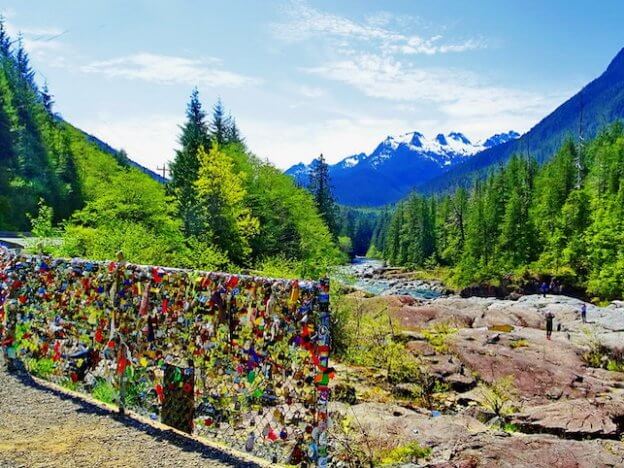 Photo credit: Peggy Reimchen
Where is it:  Roughly 30km from Sproat Lake and/or 57km from Port Alberni
The idea of "love locking" gained global momentum after emerging in Rome and Paris during the 2000s. Like a committed "we were here" token, it's all about leaving behind a mark of romance or family bonding.
Watch for it around the bend at the Kennedy River, and if you're feeling inspired, add a special lock to your packing list and pull over!
5. West Coast Wild Zip-line
Nature from new heights!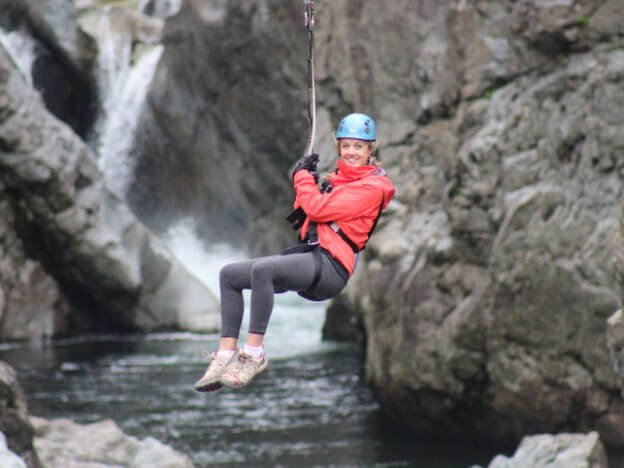 Photo credit: West Coast Wild Zip-line
Where is it:  2.5km from the Love Locks and/or 59km from Port Alberni
Now here's where the real adventurers in your vehicle show their stuff by strapping in with the pros from West Coast Wild Zip-line, and soaring over mystical ancient rainforests and steep narrow canyons. As awesome as it is well-reviewed, this team is all about safety, sustainability and providing the ultimate eco-tour. Let's do this?
Homestretch
From here, head about 35km to the fork in the road and turn right towards Tofino. Then keep your eyes open for gobsmacking glimpses of Long Beach and more, including some incredible, stop-worthy hikes in Pacific Rim National Park as you close in on Tofino.
Drive safe, and look forward to even more try-not-to-blink moments when you get here.
Top banner photo credit:  Jeremy Koreski / Tourism Tofino