The Annual 20,000 Kilometre Commute: Whale Watching in Tofino, BC
Besides the spectacular arrival of spring in Tofino, what's most exciting about March is it's when we start celebrating grey whales passing by our shores on their round-trip commute from Mexico to Alaska. And we mean celebrate! From the Pacific Rim Whale Festival to our 2 for 1 Family Whale Watching package, it's a full-flipper salute to this majestic spectacle.
First, let's get up-to-speed on these amazing mammals.
Long Distance Travellers
Did you know grey whales undertake one of the world's largest and longest migrations? With an annual round-trip of up to 20,000 kilometres (12,430 miles), grey whales migrate north from Mexico's Baja Peninsula (from January to June) to cooler waters in Alaska where they spend the summer feeding and fattening up new babies. Then in October, pregnant females take the lead as they hurry south to the warm birthing waters of Mexico.
And the cycle continues, every single year. Like fertility-focussed, reverse Canadian snowbirds!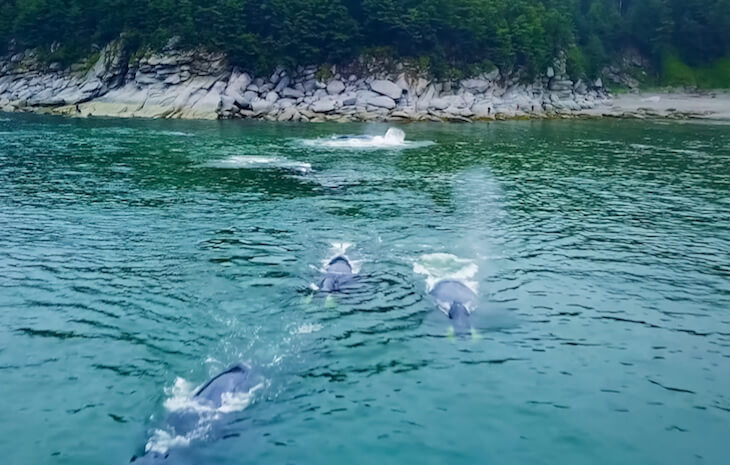 5 fun facts about grey whales:
Grey whales can be up to 15 metres (49 feet) long, which is about as long as a semitrailer, and they can weigh up to 45,000 kilograms (45 tonnes), which is more than half as heavy as the U.S. Space Shuttle.
Grey whales often get mistaken for humpback whales, however the distinction is that grey whales have no dorsal fin; only a small hump on their spine followed by a series of 8 to 9 "knuckles."
Grey whales are bottom feeders that hunt the seabed for small creatures, staying submerged for up to 15 minutes at a time and eating about 1,300 kilograms (1.3 tonnes) daily. Most of them turn on their right side to feed, and as a result, their right flipper is typically shorter and the right side of their head is more scarred from rooting around on the bottom of the ocean.
Female grey whales have a 12 to 13-month gestation period; giving birth to a single calf about every 2 years. A calf feeds on its mother's milk which is 53% fat, compared to human milk at only 2%.
A grown, grey whale's eyes are about the size of baseballs; located about 2.5 metres (8 feet) from the tip of their jaw.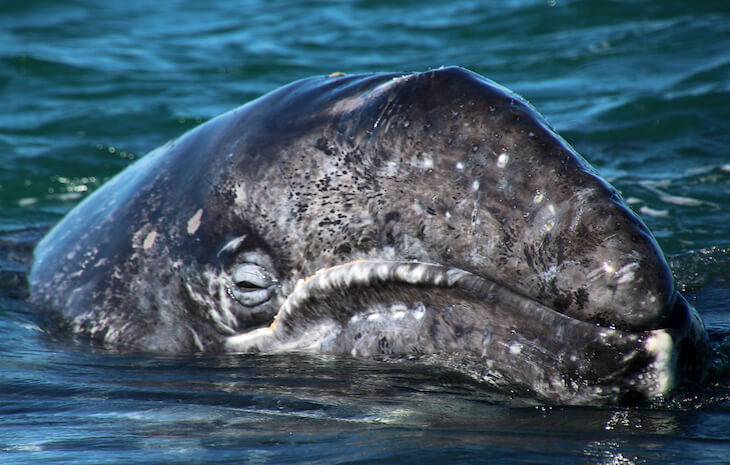 Pacific Rim Whale Festival – March 20 to 28, 2020
The 33rd Annual Pacific Rim Whale Festival shines again, with over 50 events inspirational and uniquely west coast events in and around Tofino and Ucluelet.
From Whale Spotting and drop-in activities at Amphitrite Lighthouse to Storytelling with Roy Henry Vickers at Eagle Aerie Gallery, this is a legendary line-up of whale-focussed events for families and adventurers.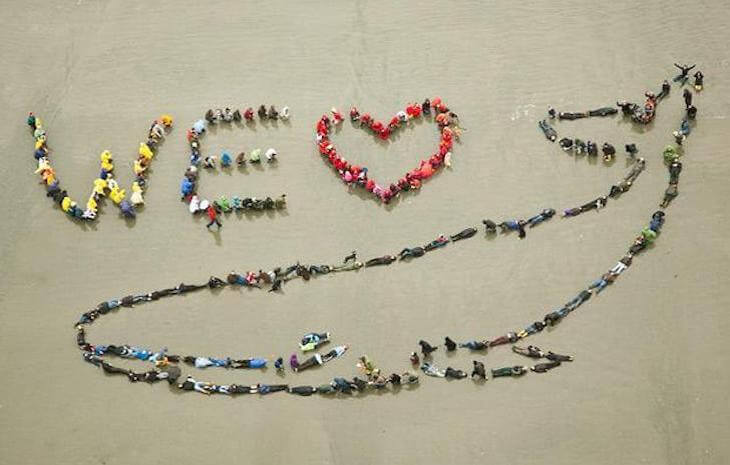 2 for 1 Family Whale Watching
When it comes to sharing extraordinary experiences with family and friends, we're not sure it gets any better than watching grey whales—and perhaps a few humpbacks, sea lions and otters—as they peacefully co-exist in panoramic Clayoquot Sound.
Come see for yourself with our 2 for 1 Family Whale Watching offer. Now through April 30th, get a FREE kid's fare with every adult fare aboard the Chinook Princess—featuring 50-feet of indoor/outdoor viewing comfort—with our friends and adventure partners at Jamie's Whaling Station.