Good Morning Campers! – Free Summer Kid's Camps in Tofino
With 2020 summer camps being cancelled in most areas due to the pandemic, many family summer schedules have also been derailed. So, if you're a parent asking, "Now what?"… we've got some better news.
How does free, daily kid's camps conducted by some fun biologists on the beach right out front of Pacific Sands sound? And did we mention Tofino is part of the Clayoquot Sound UNESCO Biosphere Reserve?
That's right, there's nothing ordinary about our Summer Kid's Camps.
Since 2012, Pacific Sands has partnered with the Raincoast Education Society on Summer Kid's Camps for our young guests. And while this year, social distancing has challenged the Raincoast Education Society to come up with new ways of safely delivering programs, rest assured little campers—the magic of exploring tidepools and ancient rainforests has not been lost.
Held daily in July and August from 10am to 12pm in Cox Bay, kids enjoy unforgettable adventures while parents enjoy some well-deserved downtime.
"These camps are such a fun opportunity for kids to be kids while learning about the ocean and the forest," declared Mark Maftei, Executive Director of Raincoast Education Society.

"They get to run around, hang out together, get their hands dirty and learn about creatures in and under the sand. We also provide important perspective on our local history, First Nations, and how everyone plays a role in responsibly shaping the future for our planet.

"I remember summer camps when I was a kid, and to be able to do this in Tofino, every day for free, on the beach right in front of where you're staying, is awesome."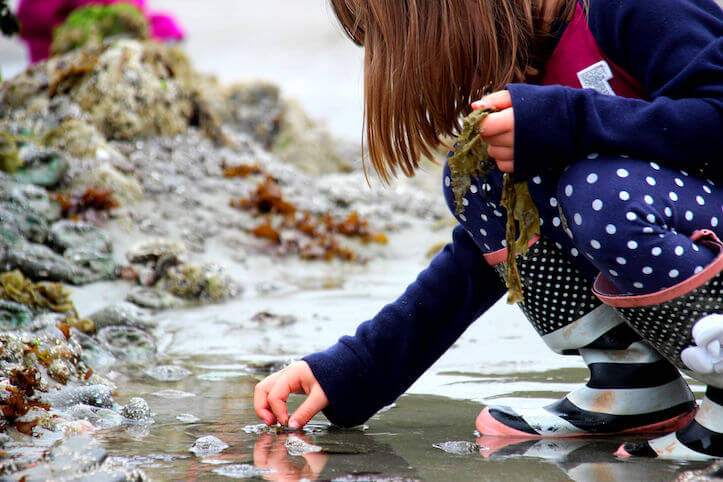 Summer Kid's Camps at Pacific Sands
Using science as a tool to make learning extra-fun and engaging, Raincoast Education Society's program highlights include:
Bugs + Slugs
Discover what types of creatures live in the nooks and crannies of the forest, and some tricks to find cool bugs in the woods.

Animal Tracking
Learn about animal footprints and how to tell the difference between wolf and cougar prints.

Whale Tales
Play whale games as you learn about baleen and non-baleen whales.

Flying Friends
Go on a bird spotting mission and earn about birds in the sky, sea and trees.

Intertidal Investigators
Explore the live aquarium of Cox Bay during tide change.

Rainforest Explorers
Discover the hidden magic of a rainforest on a scavenger hunt.

West Coast Survivor
Develop wilderness skills and build confidence to overcome challenges.
Questions?
Contact us or click here to explore more on family fun at Pacific Sands.
More on the Raincoast Education Society
Given everything about Tofino and Ucluelet's rainforest ecosystem involves conservation efforts—from protecting shorelines and wildlife to sustainable living—if it's something environmental education oriented, the Raincoast Education Society is involved. Projects include water sampling, waterfowl monitoring and shorebird tracking, along with a range of youth, adult and online education programs. [more info]