The Eye-Opening Triumphs and Truths Behind Surfrider's Love Your Beach Clean
When you are part of a United Nations designated UNESCO Biosphere Reserve like Tofino is, sustainability of our precious ecosystem is more than just a best practice—it's a mandate.
We work hard to do our part with eco-focussed initiatives in and around the Resort, but with Cox Bay as our "front yard," we are particularly proud of the Surfrider Foundation campaigns and initiatives we support—especially Love Your Beach Clean. Read on for more, including how you can help.
Spearheaded by Surfrider's Pacific Rim chapter, Love Your Beach Clean not only collects the marine debris found on local beaches, they analyze it to get a sense of which items are the biggest offenders so they can advocate for systems change. Over the last 5 years, the Pacific Rim chapter, with a core crew of 45—along with over 2,000 volunteers—has collected over 50 tons of debris.
Yes, 50 tons. Impressive right? We agree.
In fact, we were already all-in on Surfrider's Hold On To Your Butt campaign—installing cigarette recycling canisters around the Resort—and now we're donating $10,000 to the Love Your Beach Clean campaign and launching our own onsite Marine Debris Bin. This custom Bin—complete with a cool, old-school scale—gives guests and beachcombers a chance to get in on the coastal cleaning action by collecting litter, plastics, and marine debris. Contributors also earn a chance to win a monthly draw for a 2-night stay at Pacific Sands!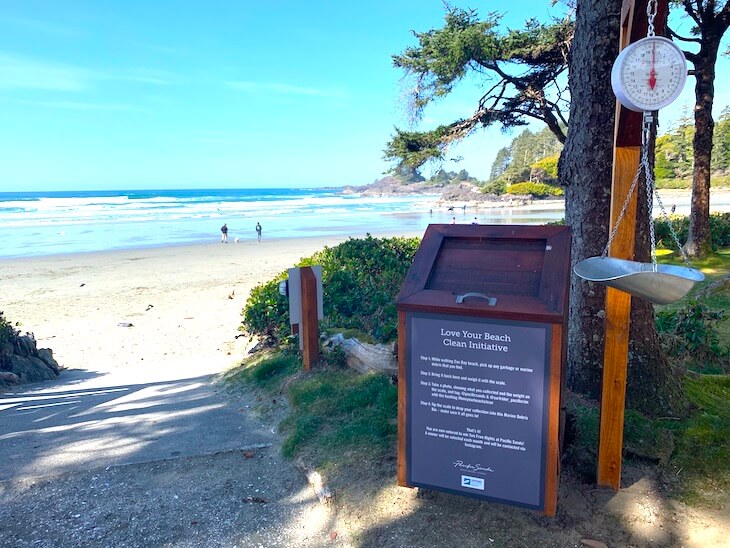 Here's how it works:
Step 1: While walking Cox Bay beach, pick up any garbage or marine debris that you find.
Step 2: Bring it back to the Bin and weigh it with the scale.
Step 3: Take a photo—showing what you collected and the weight on
the scale—then: tag @pacificsands & @surfrider_pacificrim and use the hashtag #loveyourbeachclean
Step 4: Tip the scale to drop your collection into the Marine Debris Bin.
And that's it—you are now entered to win a 2-night stay at Pacific Sands! A random draw will happen monthly with the winner being contacted through Instagram.
The best part is at the end of the year, we can add all the weight up and state: Pacific Sands Guests are responsible for cleaning up "XXXX" pounds of beach trash. We can't wait to see what that number is! And watching it grow.
More on Surfrider Pacific Rim
For a first-hand perspective on Surfrider Pacific Rim's scope and mission, we talked to Alys Hoyland who heads up Love Your Beach Clean.
"We are super grateful to see resorts like Pacific Sands encouraging local community and visitors to contribute to this important, global initiative.

"Tofino's south-west facing beaches capture debris from everywhere, but it's not necessarily coming from countries on the other side of the Pacific Ocean. It's Canada's lack of ocean friendly practices that actually plays a big role. Data collection indicates the primary source of marine pollution is rope and netting from fishing boats, styrofoam from docks, buoys, and hard plastics.

"The more data we collect, the more equipped we are, and programs like Love Your Beach Clean gives us the data and credibility as an organization that we need to drive systemic change provincially and federally. For example, Tofino and Ucluelet were the first communities in British Columbia to ban plastic straws and bags. Single-use foam has now been added to the bylaw, and we're in the process of extending the bylaw to include a ban on all single-use plastics like cutlery and bottles.

"In the meantime, recycling of collected debris is a critical piece. We bag and transport it to the sorting facility at the Ocean Plastics Depot—located at the regional landfill—then freight it to a facility in Delta, BC, where partner organizations including Ocean Legacy Foundation, Resynergi, and Plastic Oceans Canada drive 'circular economy solutions' by converting plastic into reusable forms like pellets and fuels."
See how it all works in this video:
Reality check
Back to Surfrider Pacific Rim's Alys Hoyland, here's an eye-opening assessment on the bigger picture.
"The reality is that over 11 million tons of plastic debris is entering the ocean globally every year. And while recycling is important, we ultimately need to address the sources of the pollution because the current system is simply not sustainable.

"In order to be more ocean friendly, we need to reassess our relationship with plastic. There is a connection between the climate crisis and the plastic crisis—specifically what plastic is made of, how it's transported, and how it's disposed of has a tangible impact on the planet.

"The more optimistic news is that initiatives like Love Your Beach Clean create positive ripples. Just look at what we've been able to accomplish here in the last 5 years—that's 50 less tons of debris affecting our local beaches and Biosphere Reserve. And Tofino is a small community; imagine what's possible?

"Canada has the longest coastline in the world. We are in a prime position to be a global leader on this."
Ripple effect
It starts with each of us. From recycling and participating in clean-up initiatives in our communities, to depositing beach garbage/debris into our Marine Debris Bin on your next visit, let's all do our part to minimize—and manage how we use—plastics.