Wild Food and Foraging Adventures in Tofino
For some, foraging translates to "what you do in your fridge." To others, it's a hunt and a passion that happens along the tidelines for sea greens, or deep in the forest where wild mushrooms flourish, especially here in British Columbia—and particularly here in Tofino—where nature can be as edible as it is spectacular.
As enthusiastic home cooks, and with fall being prime mushroom picking season, we went deep and wild on a 'Forage + Feast' adventure with Tofino's Wild Origins and Top Chef Canada, caterer, and wild food entrepreneur, Paul Moran.
Meet Our Guide: Paul Moran
A fifth-generation forager, Paul grew up Morel mushroom hunting in B.C.'s Okanagan where his father still forages at 70. Inspired by wild foods and how he could translate foraging into cooking, he headed down a culinary path.
Training in kitchens in Dubai, Paris, Nice, and Montreal, he built a diverse, cultural skillset, returning to Vancouver, B.C. where he rounded out his experience with Japanese cooking. And then in 2019, Paul captured the culinary world's attention when he was awarded the top spot on season 7 of Top Chef Canada. [You can watch the highlights of his winning episode here.]
When asked what brought him to Tofino, Paul said "I came to Tofino to open a resort; I stayed for the opportunity to expose guests to all the unique foraging experiences.

"The diverse geography in such a small area is so perfect for four-season foraging. There's tidal foraging for seaweed, forests full of mushrooms, and mudflats with intertidal herbs, sea asparagus, and sea chives—and it's all within a 10-minute drive."
Paul founded Wild Origins with a goal: To share his wild foods, create foraging experiences, and bridge the gap between wild foods and the everyday cook. [Hey that's us!]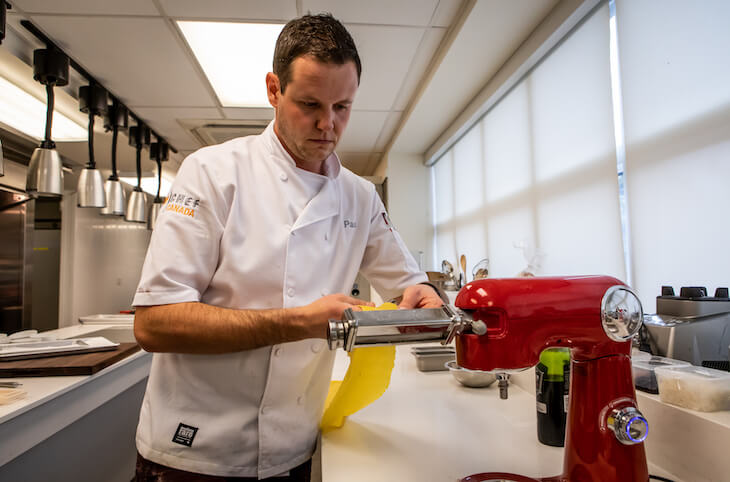 Fungus-Among-Us
Full disclosure: we wanted to geek out on mushroom intel, so the night before foraging, we watched the Netflix documentary Fantastic Fungi. Besides an eye-opening journey into psychedelics, we learned:
fungi are in a kingdom of their own but are closer to animals than plants
how some special medicinal mushrooms help us heal
how mushrooms build underground fungal networks to help trees communicate
how mushrooms contributed to the regeneration of life on this planet starting 3.5 billion years ago
Suffice it to say we were blown away, armed with new words like "mycelium," and pumped for the morning.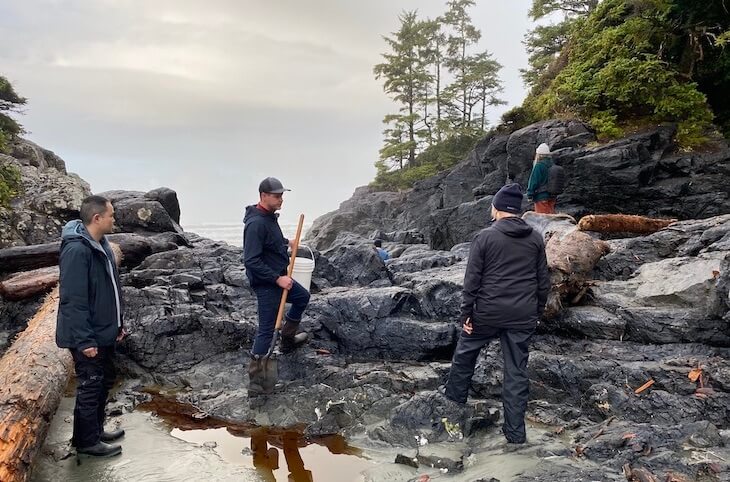 Scouring the Seaside
After a meet/greet and orientation with Paul and our new foraging friends, we all loaded into Wild Origins' Mercedes van with a first stop in Cox Bay.
There was storm surge from kicked-up winds the day before as we carefully navigated the rocks at the north end, following Paul's trained eye and staring into crevices. He timed the tidal waves and climbed down into an area, pointing out a cluster of gooseneck barnacles, which he explained are not only edible, they're apparently a delicacy in places like Spain and Portugal. Using part shovel, part hand, he and others scraped a healthy harvest into our bucket and quickly climbed up the rocks as the tide flowed back in.
After a show and tell of edible seaweeds, we headed back to the van and inland to the first of Paul's two secret mushroom locales.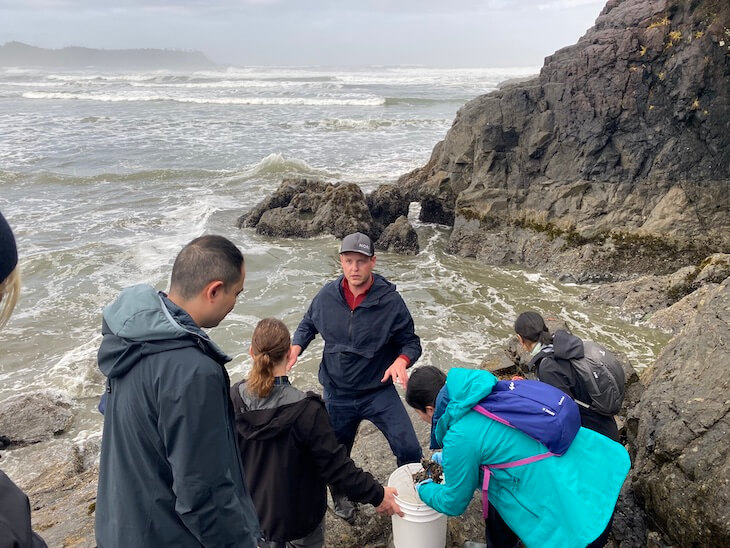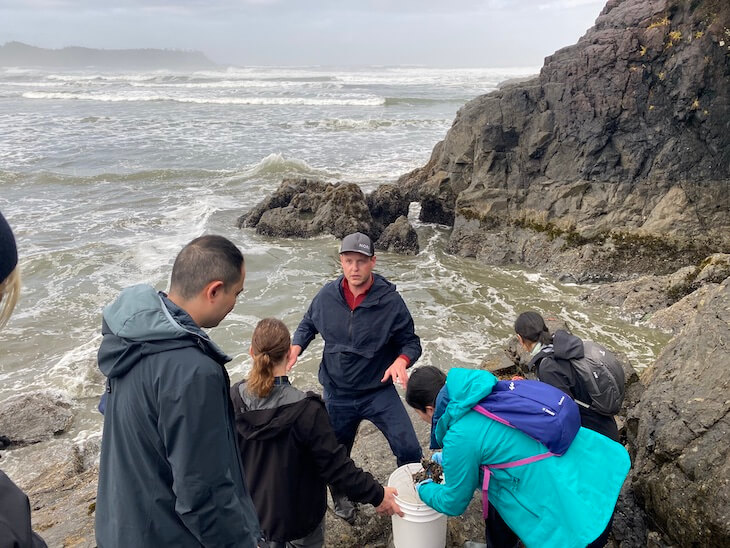 Fungi-Hungry Explorers
The next stop near the beach was all about Pine mushrooms. These meaty, white-fleshed, pungent smelling beauties like to grow in sandy, salty soil, hiding under trees, moss, and other unlikely places.
We watched Paul unearth what appeared like a quarter-sized white spot in the dirt, but—once he dug his hand in—emerged as a 4 inch long, surprisingly thick Pine mushroom. It was game-on as all of our shocked eyes diverted down, hunting for more white spots peeking out of the soil. And we found them!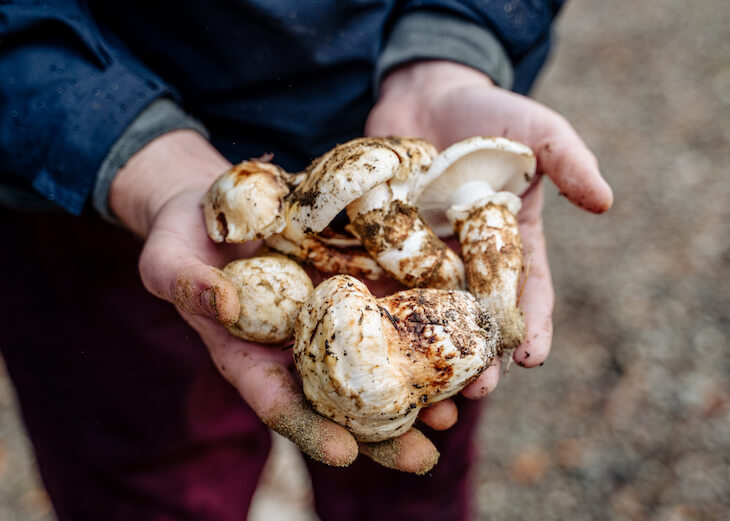 Going Deeper
The final foraging location was a deep drive along rough roads into dense, old-growth forest. We peppered Paul with questions along the way, asking about mushrooms like Morels. Paul explained how Morels rely on forest fires to flourish, so you won't find many in Tofino, however, the Okanagan is a reliable hotbed, especially along the edges of burns. [Who knew?]
As we unloaded and started walking, Paul talked about how out of the 3,000+ fungi varietals on Vancouver Island, only 30 are considered edible. That got our attention, as we paused and pointed with seemingly every step.
We came across beautiful red, dotted specimens that looked like the belonged in Alice in Wonderland; quickly learning they're Amanitas, poisonous, and known to cause liver damage. [Disappointed!]
Paul picked another harmless looking large white mushroom—calling it a Russula—and pointed out to stay clear of white gilled mushrooms in general. Russulas also have bright coloured caps, but the white gills are the giveaway. Apparently they're "mostly" free of deadly poisons, but do you want those odds in your mushroom risotto?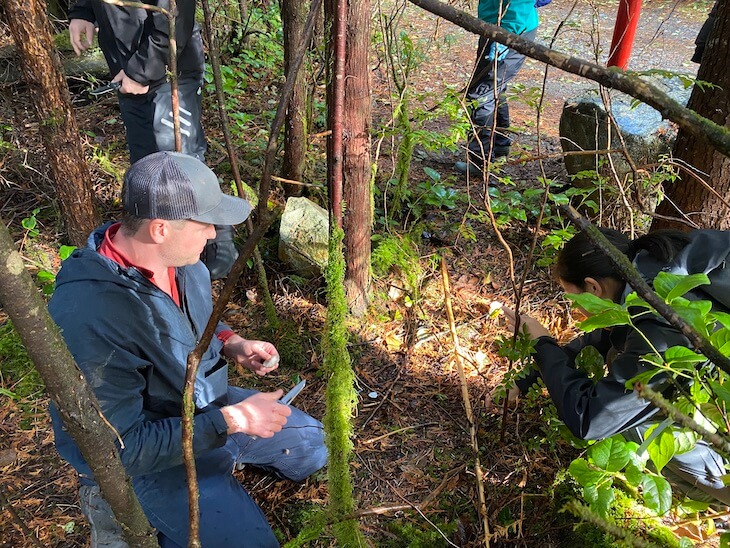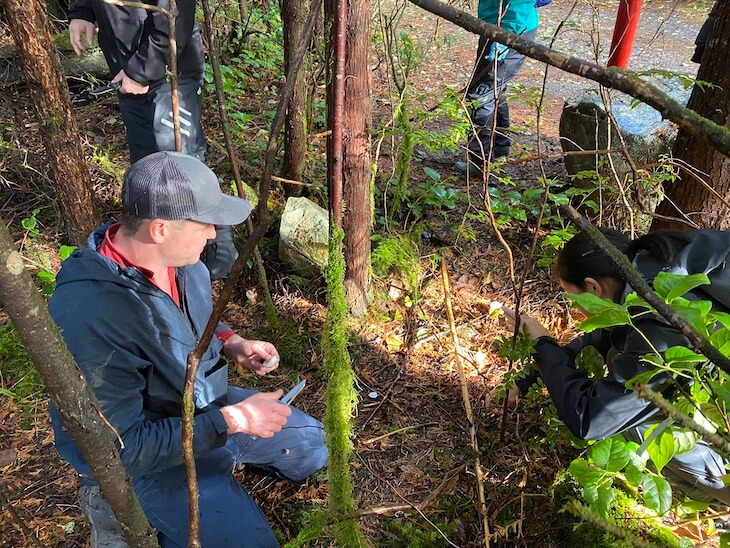 The benefits of having a foraging expert like Paul as our guide became more and more clear as he outlined our mission and showed us what to look for—Chanterelles: the forest jewels.
We had our marching orders and buckets as we climbed over logs, crossed creeks, and carefully stepped on the carpet-like moss, spotting clusters of Chanterelles like glowing, golden beacons in the layers of lush, green-ness saying, "Pick me."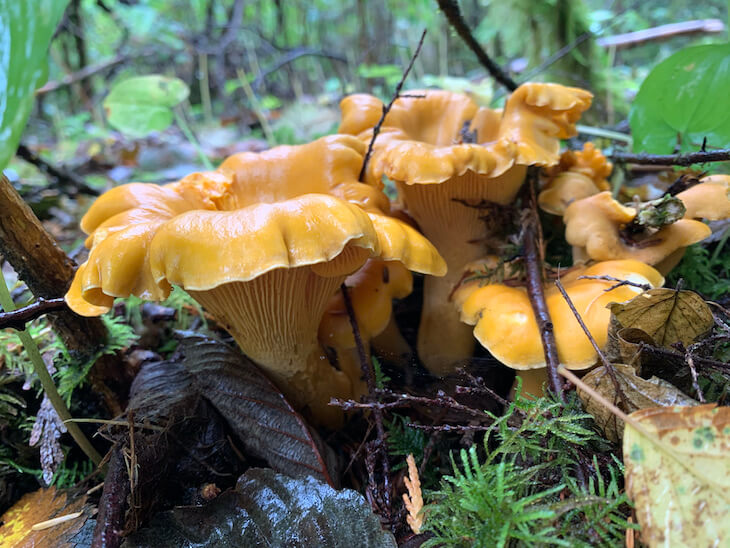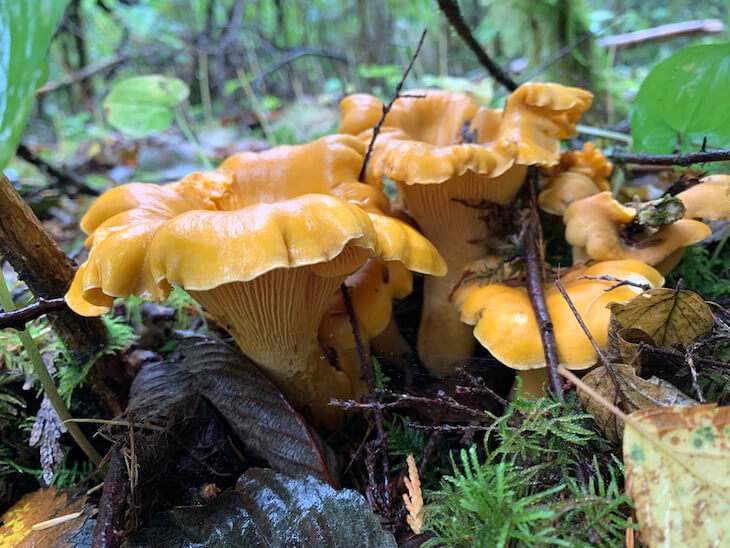 And pick we did, being careful to scrape off the dirt to minimize cleaning, as mushrooms are like sponges that you don't want to have to rinse with water before cooking.
"Just use a small brush or damp cloth to clean mushrooms, and a quick edge trim if necessary," instructed Paul.
After combining our buckets into baskets, we paused for a debrief over fresh sliced apple, Manchego cheese, and Pine mushroom shavings on crackers—rustically, yet meticulously prepared on a stump—then we piled back into the van, hunt-weary and satiated.
And as we drove back to town, the group agreed that we'd never look at a forest floor quite the same again.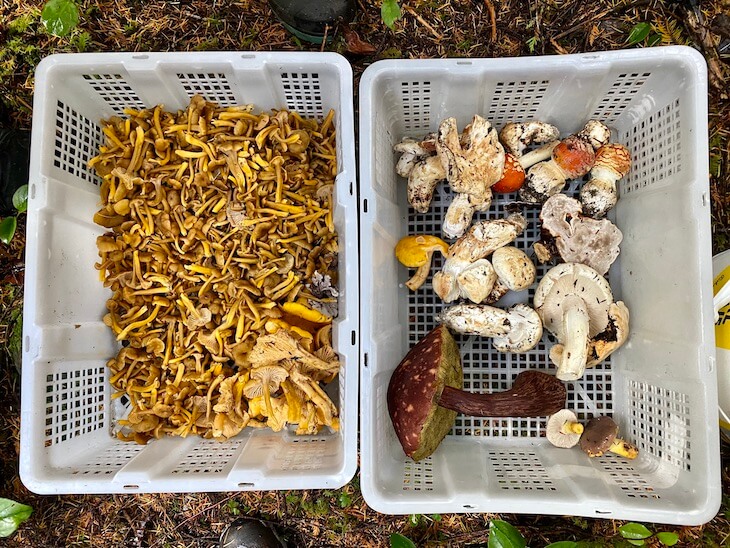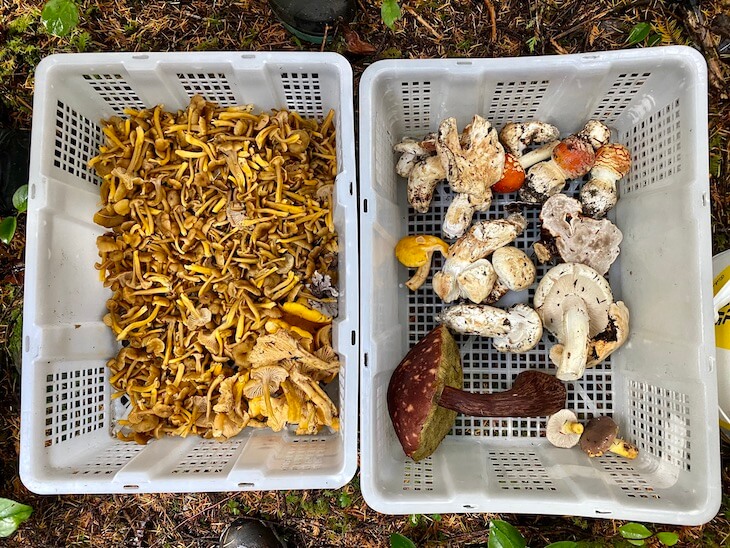 Time to Feast
While Paul headed into his kitchen for the afternoon to prep dinner, we went back to Pacific Sands to regale about tide pools and fungi findings to pretty much anyone that would listen.
Later, arriving back at Paul's place hungry and ready for a food adventure, we knew the foundation of what was being served depended on what we had foraged, but the menu was still a mystery.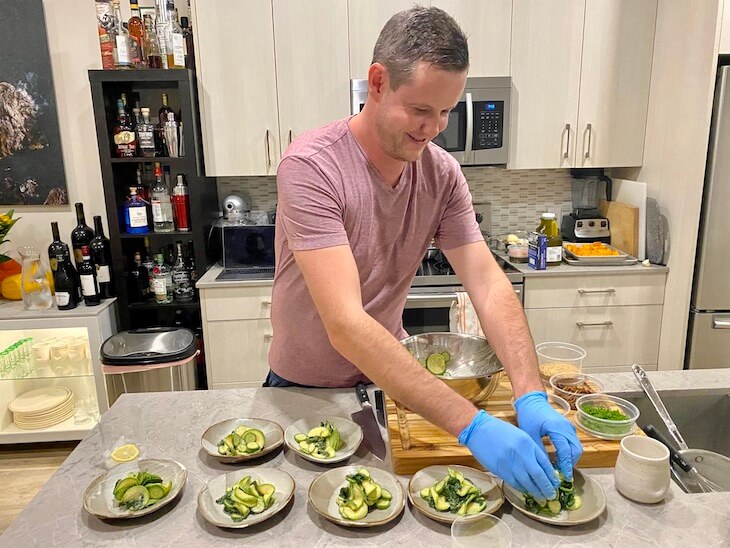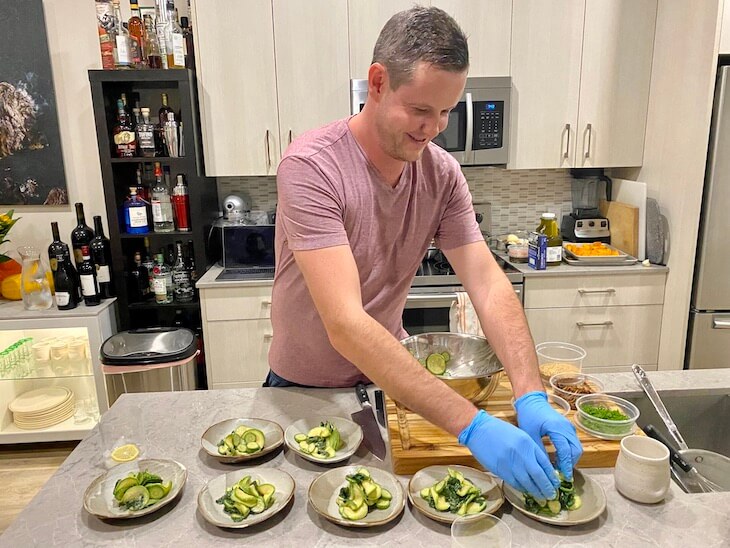 After being greeted by Paul's fiancée, Danielle—along with a Forager's Martini—the Pickle Bar set the tone, featuring pickled vegetables, bull kelp, and our gooseneck barnacles, followed by:

• Daikon, tuna, seaweed, and wild rice appetizer
• Pine mushroom broth with squash, bull kelp, and fresh, local spot prawns
• Gomae seaweed salad
• Wild mushroom risotto; cooked classic, northern Italian style
• Brown butter and wildflower honey madeleines
• Asian pear, lemon curd, hazelnut crumble with pistachio gelato
The table was buzzing with foodie chatter, big laughs, and the occasional mouthful moan of appreciation, as we all raised a glass to Paul, Danielle, and each other—toasting to a very good day.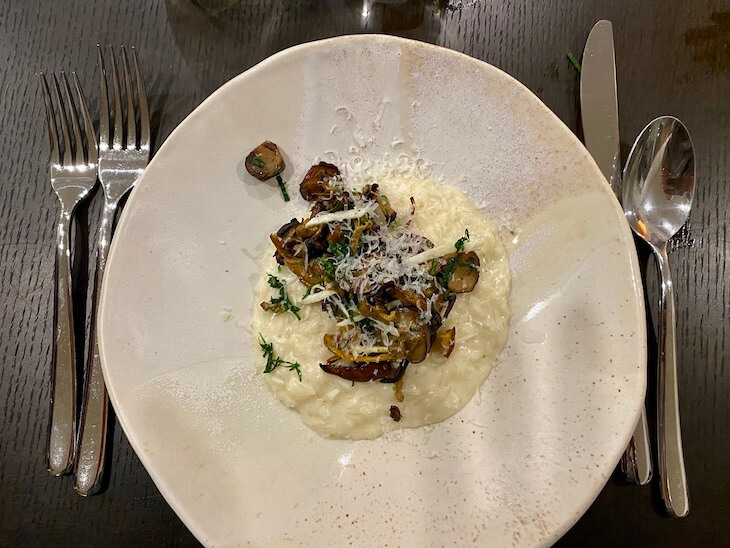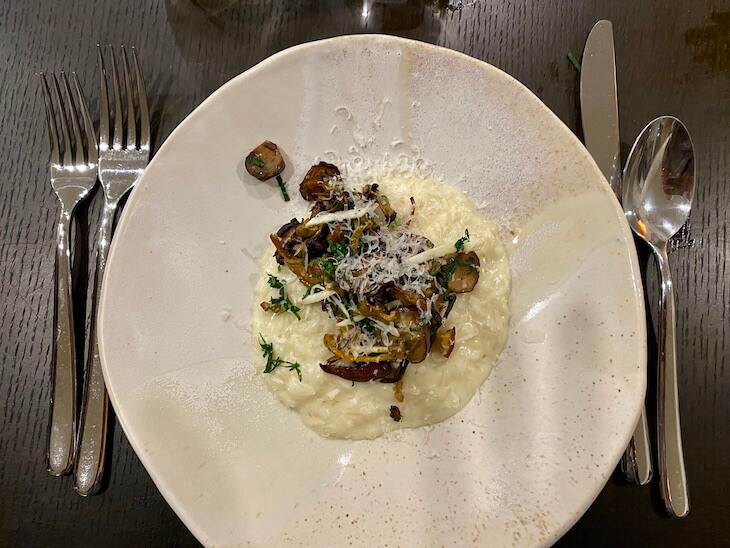 Pre-Packaged, Hand Foraged Goodness
If getting to Tofino for a Forage + Feast outing is further away than your appetite right now, you can sample Wild Origin's hand foraged foods with pre-packaged, fresh picked and dried Chanterelle, Pine, and Morel mushrooms as well as dried bull kelp, macro kelp, and wild rice.
Buy online or look for Wild Origins at gourmet grocery stores—including Gaia Grocery here in Tofino—as well as wineries in B.C.'s Okanagan and some London Drugs in the Vancouver Island/Vancouver area.
Then be sure to check out Wild Origins recipes for next steps on creating sneaky impressive dishes like Chanterelle Tapenade, Macro Kelp Lasagna, Teriyaki Morel Sushi Bites, and Pine Mushroom Miso Soup.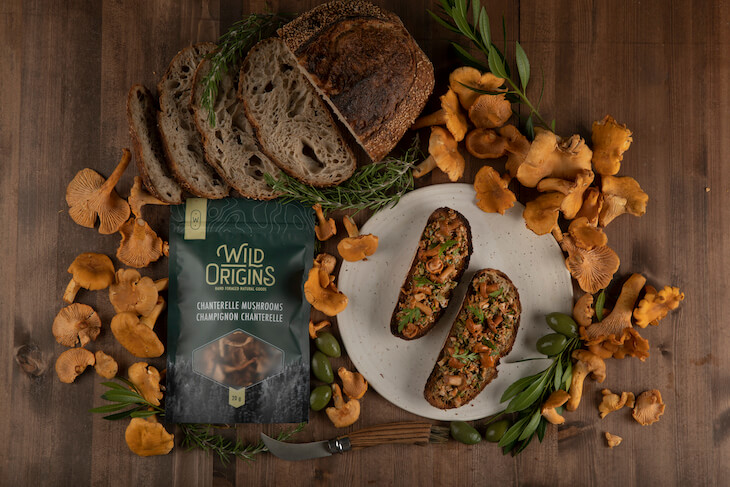 In-suite Catering at Pacific Sands
If turning your Pacific Sands kitchen over to an award-winning chef sounds like a dinner plan on your next visit, contact Wild Origins for an immersive, authentic, and delicious west coast experience.
As some grateful guests can already attest, Wild Origins delivers quite a catered event for 4 to 16, depending on your suite.
And it's conveniently seamless, or as Paul describes, "Our catered dinners are typically 7-courses starting with a custom cocktail, right through dessert. We're mindful of your Tofino time and not hanging out in your suite all afternoon—we do all the shopping, prep and pre-cooking, so we show up ready to finish and serve.

"We include meat on request, focussing primarily on pescatarian and vegetarian menus."
In addition to locally hand foraged foods, Wild Origins signature catering menus are centred around ingredients indigenous to the west coast, including fresh caught fish and biodynamic vegetables flown in frequently from Vancouver's Hanabrook Farms.
Check out this video for some other catering event highlights.