Kathryn Beals: Art Inspired by Nature and Neurology
What happens when you combine studying forestry and environmental science at Berkeley with a self-taught artist from Vancouver Island that's energized by natural beauty, migraines, and giving back?
You get Kathryn Beals—a gifted, generous, and resourceful painter honouring her promise to be a "steward of the land" through ongoing donations and fundraising for environmental and humanitarian causes.
Deep and Meaningful Roots
Kathryn grew up on Vancouver Island around Port Hardy where her love for trees and the ocean formed indelible roots.
"I started painting trees and coastal scenes as a kid. It was a hobby that led me to forestry and a Masters of Environmental Science at Berkeley in California," explained Kathryn. "Among other things, I studied the genetics of oak trees, and what always stuck with me is my teachers telling me we are all stewards of the land.

"The colour and movement of nature drew me back to creating art full-time, but at first, it was really hard for me to share what I'd created. It was using art to help non-profit causes that really galvanized putting myself out there.

"Giving back is so important to me. I couldn't do what I do without the community behind me. I certainly don't feel alone. Every series I create has some sort of non-profit connection, which is not only a privilege, it's a huge catalyst as an artist."
In 2017, Kathryn set a goal to raise $100,000 USD for non-profits. She's now surpassed $50,000 with donations to Doctors Without Borders, Surfrider Pacific Rim, Pacific Wild, Canopy.org, and more.
Finding Art in Adversity
In addition to dealing with the lifelong torment of migraine headaches, Kathryn also has a rare neurological condition called 'synesthesia'. For some that means the ability to see colours and shapes when hearing sounds, but in Kathryn's case, she looks at colours and sees numbers and letters—and she uses both of these conditions to her advantage.
"I attribute the colour and movement in my paintings to my synesthesia and migraine auras. They have shaped the way I see the world, and enhanced my development as an artist. For example, my Aura method of painting with magnetic fields was inspired by the visual disturbances from my migraines.

"Art has the ability to show people something in a way they haven't seen before—through a different lens. I see aspects of nature through layers. Creating art as a series helps me organize my perspectives through different media like resin, paint, clay, reclaimed wood, and metal leaf."
Kathryn is also a grateful cancer survivor.
"When you are first diagnosed with cancer, other cancer survivors give you the advice to keep busy. I was already busy with three young children but painting for non-profits gave me a welcome distraction and a new perspective. I set out to learn a new medium and discovered fluid abstracts, immediately falling in love with the way fluid paintings come out looking like something in nature—from cells to rocks, and aerial photos to galaxies."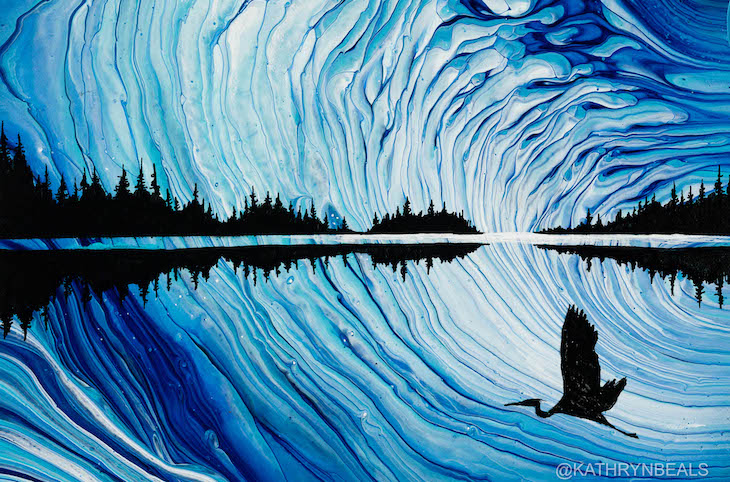 Circling Back
By 2019, Kathryn had expanded her art business enough to rent an art studio in Palo Alta, California, but her love for coastal living drew her back to British Columbia in 2020, when she moved with her husband and children.
"Coming back to B.C. made me realize how special Vancouver Island is. The biodiversity, the setting, and of course, the ocean. There's nothing like it and we really wanted that for our children.

"Where we live inspires the vision and story behind each piece. I find a subject that fascinates me and think about ways of looking at it through art."
Case in point, Kathryn's Northern Waters series—which helps support Surfrider Pacific Rim here in Tofino—is her interpretation of the many small islands around Vancouver Island and the frothy wake of B.C. Ferries, which come to life through her unique paintings, acacia trays, and art boxes.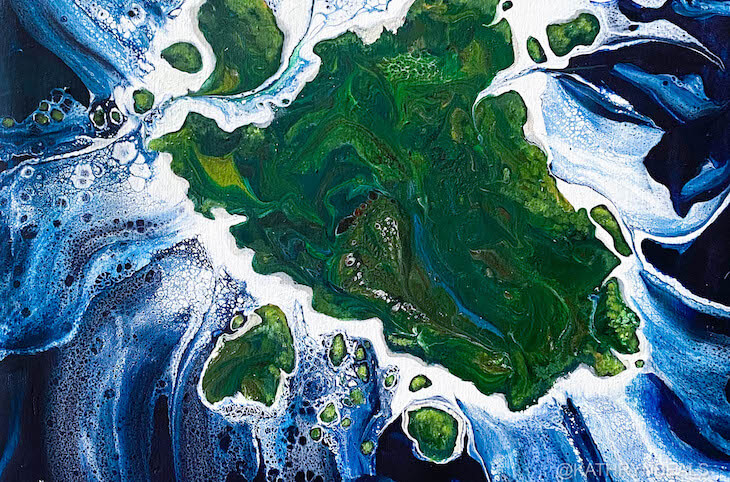 Tofino Tidepool Inspirations
Kathryn's now focussed on a series of intertidal works that will available in early 2022.
"On our family trip to Tofino this summer, I found myself really seeing tidepools as a fascinating intersection of the land and ocean. The sea anemones and animals in the intertidal zone are remarkably resilient and remarkable.

"I also recently started painting kelp forests; an area of the world that's usually hidden. We think of kelp as a habitat for organisms, but it actually plays a huge role in mitigating climate change by removing carbon dioxide. Protecting B.C.'s ecosystems is so important."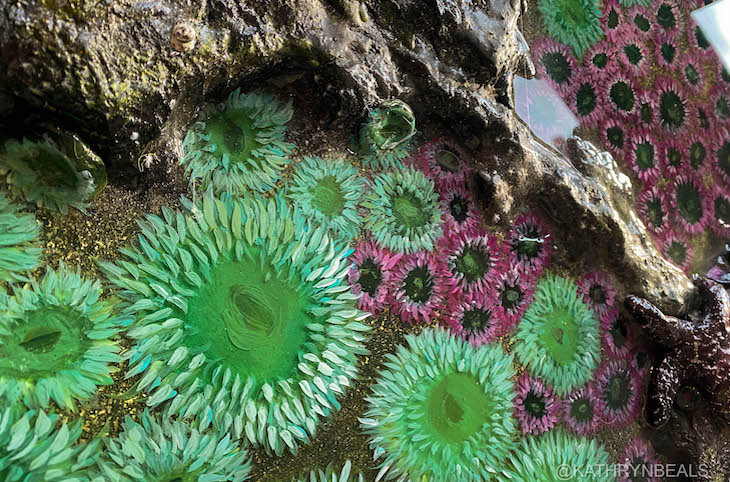 Functional Art
On your next visit to Pacific Sands, keep your eyes open for Kathryn's round, acacia trays in select suites—perfect for serving wine or cheese and crackers for Happy Hour. A sampling of her jewelry, using repurposed elements, is also available for sale in Guest Services.
In the meantime, experience Kathryn's unique technique in this video where she creates a round tray using paint, resin, and metal leaf.