Looking Back on the Pettinger Family Legacy, with Dave Pettinger
As we celebrate the 50th Anniversary of Pacific Sands Beach Resort and look back on our storied journey, the timeless legacy of the Pettinger family—and their deep love for Tofino—takes centre stage. To help us reminisce, we caught up with Dave Pettinger who spent almost 40 years at Pacific Sands working with his parents, then running the Resort and raising his family. While excited about the next chapter of his life, it's clear that Dave's memories of his time here are as beloved as they are bittersweet.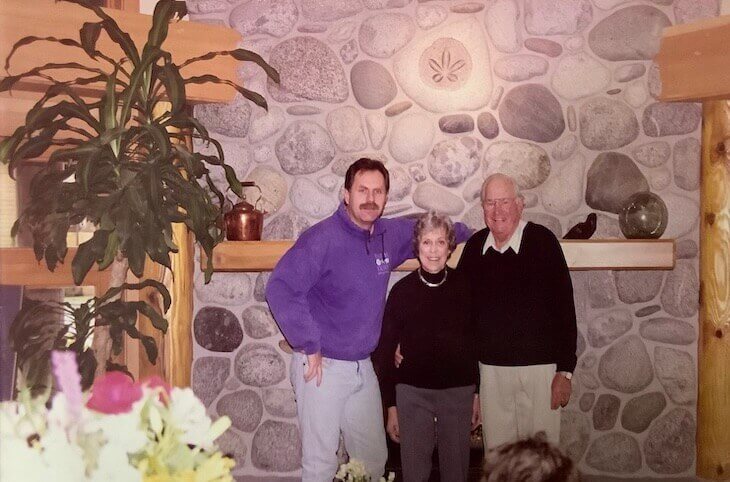 "Fifty years is hard to believe!," laughed Dave. "So many great stories to tell, but the first one that comes to mind is when on March 31, 1973, Mom and Dad (Bill and Joan Pettinger) along with my Uncle Barry and his wife June, arrived at the original Pacific Paradise Motel to take over the property and four original cabins. They brought their dog but the 'soon-not-to-be' owner had a strict pet policy. They were literally taking over the next day and he wasn't going to let them stay the night with their dog.

"Of course, they told him they'd leave the dog overnight in the car, and of course, they snuck the dog into their cabin, but can you imagine dogs not being welcome at Pacific Sands, let alone Tofino? That policy changed pretty quickly."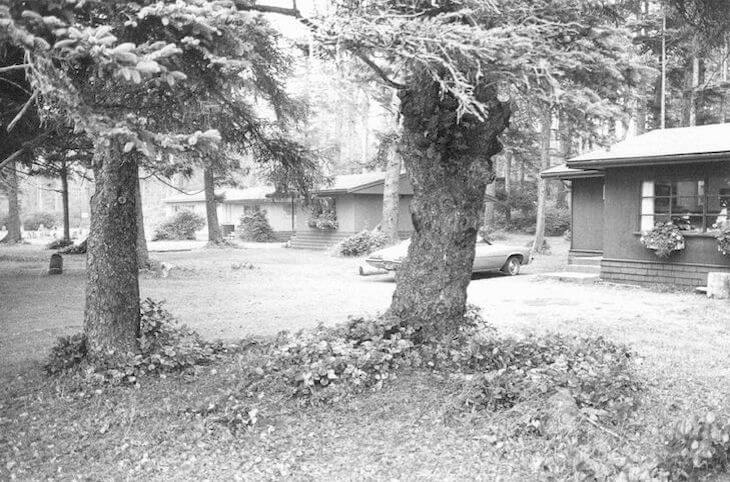 PITCHING IN
The Pettingers renamed the property Pacific Sands Beach Resort and it was all hands-on-deck as they rolled up their sleeves and learned how to run the business. Dave's brothers, Rick and Bill Jr., were busy with real estate in Victoria and helped out when they could. Dave jumped in full-time after finishing up college, learning first-hand that Resort operations can sometimes require creative ingenuity, especially in remote areas like Tofino.
"In the late 1970s, early 1980s, water for Pacific Sands came from Meares Island through a buried waterline in the inlet," recalled Dave. "The line ran through the neighbouring Pacific Rim Campground (now Surf Grove) and hooked into two 7,000 gallon oak barrels that Dad got from an old winery in Victoria.

"The water was tested frequently, and I would often hike up to the creek source on Meares Island and clean out any pine needles stuck in the intake valve. It was rustic, but effective, and that system lasted until the District of Tofino built water infrastructure in the late 80s."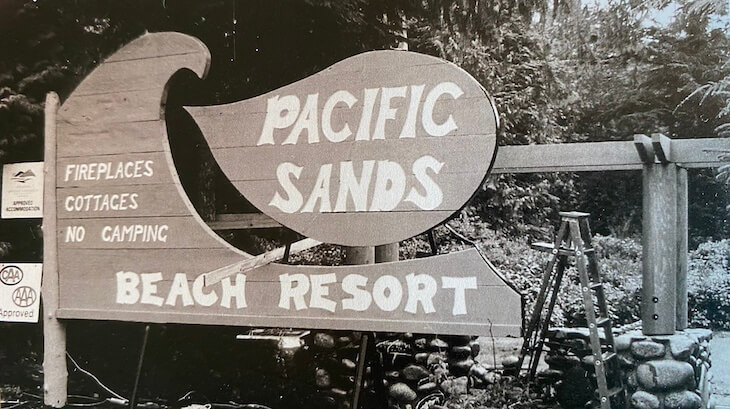 WAVES OF CHANGE
In the mid-1980s, Bill and Joan purchased 100% interest in the Resort from brother Barry and handed the management reins to Dave. By then, 10 cabins had been added along the Cox Bay shoreline, and it was time for more, including 19 new Beachfront Suites and 18 Lighthouse Suites, bringing total accommodations to 54.
Clayoquot Sound protests in 1993 put the astonishing beauty of Tofino on a worldwide stage, fuelling momentous growth in tourism. The Resort grew along with it, including replacing the original, flagship Lodge with a new 18-suite Lodge.
Then in the fall of 1999, the Pettinger family and Resort community were deeply saddened by Joan's passing. The 1990s was a decade of defining moments and Pacific Sands was forever changed.
As more and more families continued to return to the Resort, expansion marched on the with the addition of 22 Beach Houses in the early 2000s, bringing total accommodations to 77.
In 2007—true to his wishes—Bill Pettinger passed away peacefully in his sleep at his residence at Pacific Sands.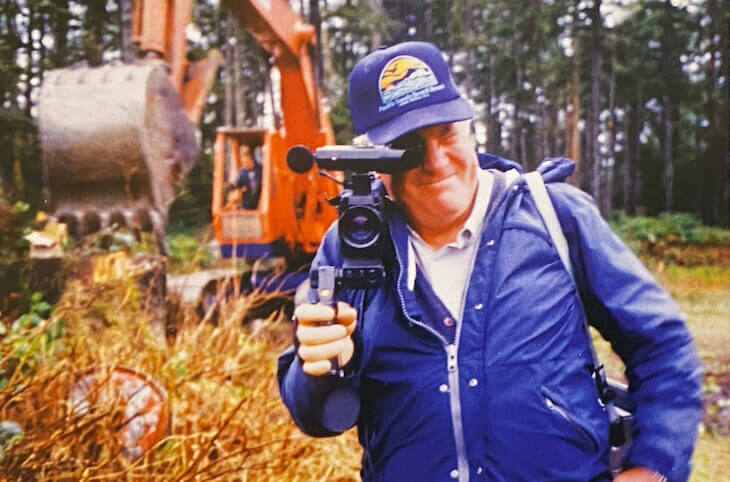 FAMILY TIES
From 1986 to 1991, Dave and his wife, Linda, lived above Guest Services while Dave ran the Resort. The commute was short and sweet, but things got crowded with the arrival of their first daughter, Kaileigh, in 1988; then Tiara in 1991. So, they moved to a newly built house on the hill overlooking Cox Bay and Rosie Bay.
"The girls were still close enough to the candy and pop machines at Guest Services, so they adjusted quite easily," Dave joked.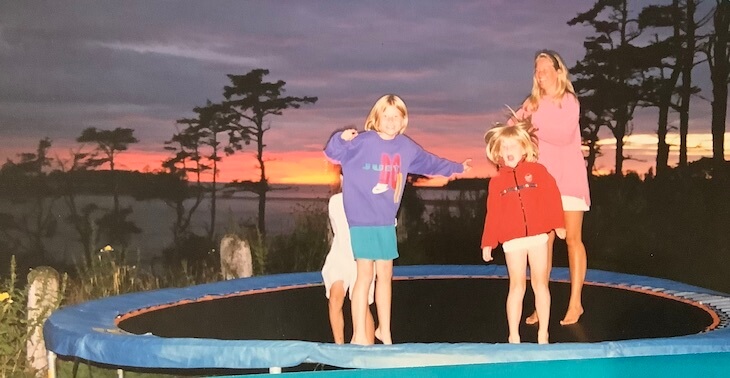 "In fact, they lived in that house until they finished school and left home.

"Tiara went travelling to Thailand and Cambodia before university and now lives in Canberra, Australia where she works in human resources. She's also a new mom to her daughter, Rosie, who she named after Rosie Bay—the bay she looked at from our house her whole childhood. And Kaileigh now lives in Victoria with her two daughters, Stella and Harlow, where she's an educational assistant at an elementary school.

"Both of my girls still have great relationships with friends in Tofino, and we all love getting back to Pacific Sands for family vacations when we can."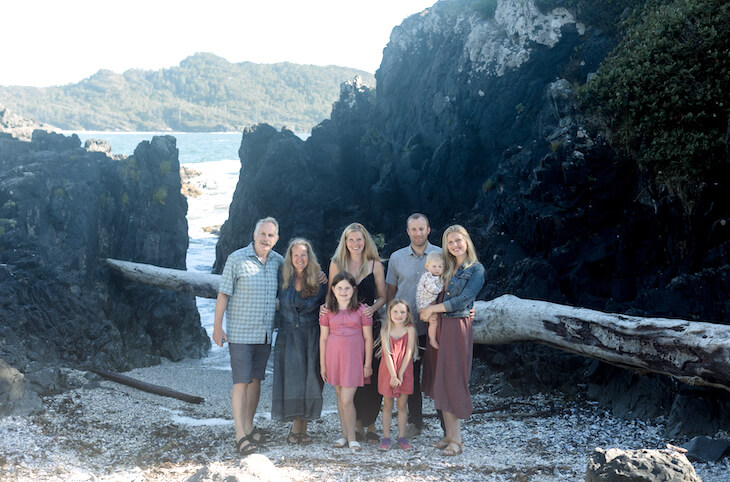 NEXT CHAPTER
After 42 years of ownership; returning guests that became friends; and enduring community bonds, the Pettinger brothers passed ownership of Pacific Sands to Gordon Nelson Inc. in 2015 (now solely owned by Nelson Investments Inc.).
In tribute to the visionary, pioneering entrepreneurs that created the Resort, spectacular Sunset Point at the north end of the property was renamed: Pettinger Point.
"It's so fantastic that Pacific Sands is now celebrating its 50th Anniversary," declared Dave, "and that the Nelson family have picked up the ball and continue to make it a very special place for visitors to enjoy.

"The Nelsons definitely have a passion for the property and people. That makes me very happy, and without a doubt, my parents would also be happy knowing the Resort is continuing to be family run. It means a lot to the whole Pettinger family that we passed Pacific Sands on to people that care about it and want to be caretakers for future generations."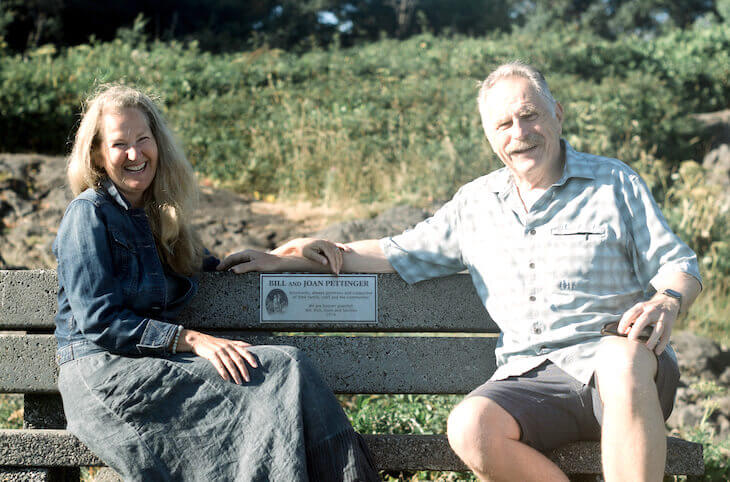 ENDINGS, BEGINNINGS
"As for us, brother Rick still lives in Victoria and unfortunately, brother Bill Jr. recently passed on," Dave recapped. "Linda and I now also live in Victoria. I'm retired and enjoying hiking, motorcycle riding, and spending time with our grandkids. Linda retired from real estate, and in addition to family and travel, she spends her time horseback riding and volunteering at the food bank. Life is good."
MORE TO COME
Throughout 2023, as our 50th Anniversary year unfolds, watch for more stories and highlights—including more from Dave—in Instagram and Facebook posts featuring 50 Fun Facts about Pacific Sands.