Experience the Indigenous Spirit of Tofino
Tofino is located on the traditional territory of the Tla-o-qui-aht First Nation, and for over 5,000 years, the people of Tla-o-qui-aht have called the area home. That enduring heritage is why today, more than ever, Tofino travellers are seeking vacation experiences that uncover authentic stories connecting the land, the sea, and the wisdom of our original people. Indigenous-led businesses are not only driving indigenous tourism in Tofino—more importantly—they are capturing the deep spirit and rich, cultural fabric of Clayoquot Sound.
~~~~~~~~
Tla-o-qui-aht is one of three First Nations cohabitating the spectacular ecosystem of Clayoquot Sound. Together with Ahousaht and Hesquiaht, they comprise the Nuu-chah-nulth peoples; sharing a long history and holistic way of life centred around "nature's three gifts"—whales, cedar, and salmon.
It's these gifts and traditional values that formed the foundation for indigenous tourism in Tofino, including legendary First Nations artist Roy Henry Vickers and his Tofino Gallery, as well as the following indigenous Tofino products, services, and organizations.
NAAS Foods
Located on Campbell Street in Tofino, NAAS Foods sells fresh seafood and to-go seafood dishes/platters, along with a signature line of kelp products—in-store and online—that are so uniquely delicious, it will make you look twice at a floating kelp bed.
When asked about how the kelp product concept evolved, co-founder Stevie Dennis explained, "I met my now business partner, Jordan White, while working at a local fishing lodge. He had worked with a couple of other companies harvesting kelp, and he started talking to me about the possibilities of creating a kelp business in Tofino.

"At the time, I was assisting Ahousaht with managing the shoreline—sort of like a coastal parks ranger—and this idea of creating a business around sustainability really resonated. Jordan and I knew fishing and the seafood business, but when it came to marketing kelp, we were not sure where to start, so we took the plunge by creating a garden fertilizer made from harvesting Giant kelp. We packaged it up and hit the road to sell the concept around Vancouver Island, but despite our best efforts, it didn't really fly.

"So, then we thought about Bull kelp, how great it tasted, and what we could do with it. We tried drying it and discovered a great, flavourful substitute for salt. Then we smoked it and found it tasted incredible on foods like steak, crab, or simply eggs. So suddenly, not only was kelp plentiful, but we also found ways to make it delicious. We knew we were onto something."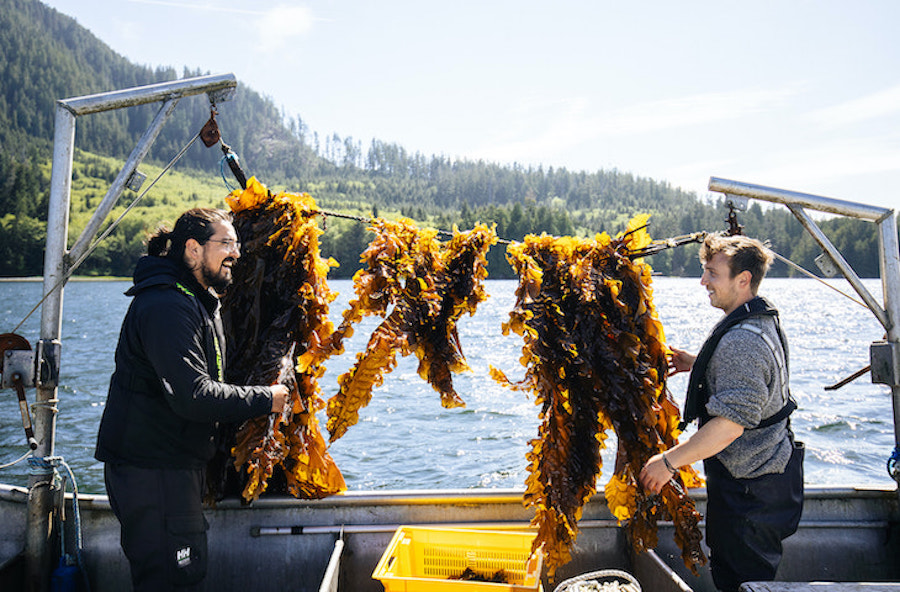 The mission and values behind NAAS Foods and how they operate is what sets them apart: Create innovative food products made from regenerative aquatic resources that are convenient, delicious, and most importantly, good for the planet.
Stevie breaks it down with, "We harvest in a way that the kelp can keep growing—kind of like pruning a rose stem and 2 grow back. We harvest the blades, not the stems, so the blades continue to grow and collect important nutrients. And the cycle continues.

"And then, just like many dried spices, we package our products in tins, except it's not like any spice in your kitchen."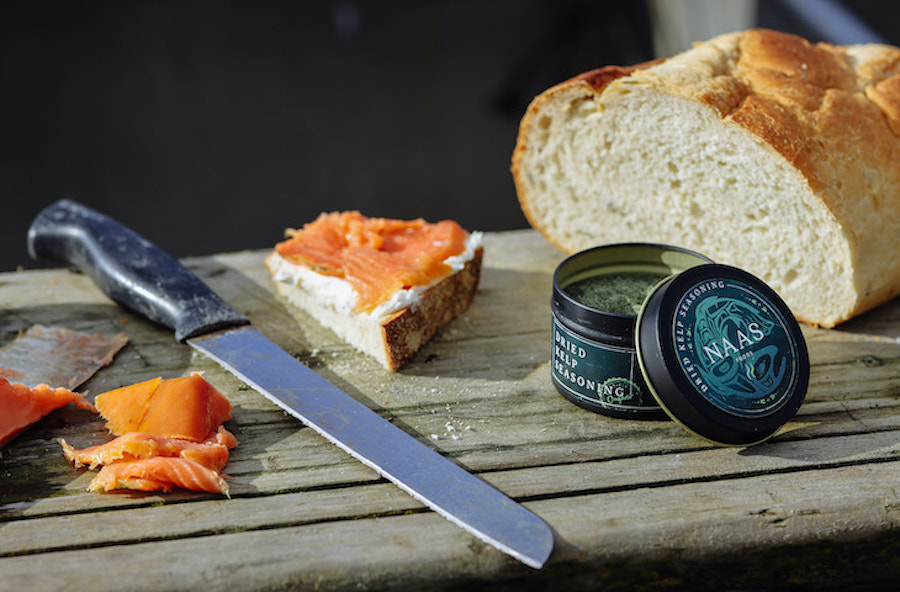 Ahous Adventures
Owned and operated by the Ahousaht First Nation, Ahous Adventures offers an opportunity to explore the majesty of Clayoquot Sound's Ahousaht Territories through the lens of the Ahousaht.
From bear and whale watching excursions on a fleet of zodiac and covered cruisers, to their signature day trip—the Hot Springs Eco-Tour—get immersed in Ahousaht's culture, language, history, and storytelling narrated by experienced, indigenous guides.
The Hot Springs Eco-Tour is a one-of-a-kind, 6-hour day tour that will take your breath and stress away. Enjoy wildlife sightings and a 1.5 km boardwalk through an old-growth rainforest to a secluded, natural geothermal-heated pool carved out of the rocks overlooking the Pacific Ocean. Basically, a natural hot tub with surreal views.
"Ahousaht First Nation now help manage Hot Springs Cove," declared Corene Inouye, General Manager of Ahous Adventures. "Visitors are loving all of the improvements, including the replacement of a large part of the boardwalk, and we're really excited about the coming months as we are going to keep the Hot Springs Eco-Tour going through the winter season.

"We've also created a mentorship program for Ahousaht community members and are having a lot of fun training new guides and office staff. It's a very rewarding collaboration as we work to further Ahousaht self-determination while building a sustainable economy."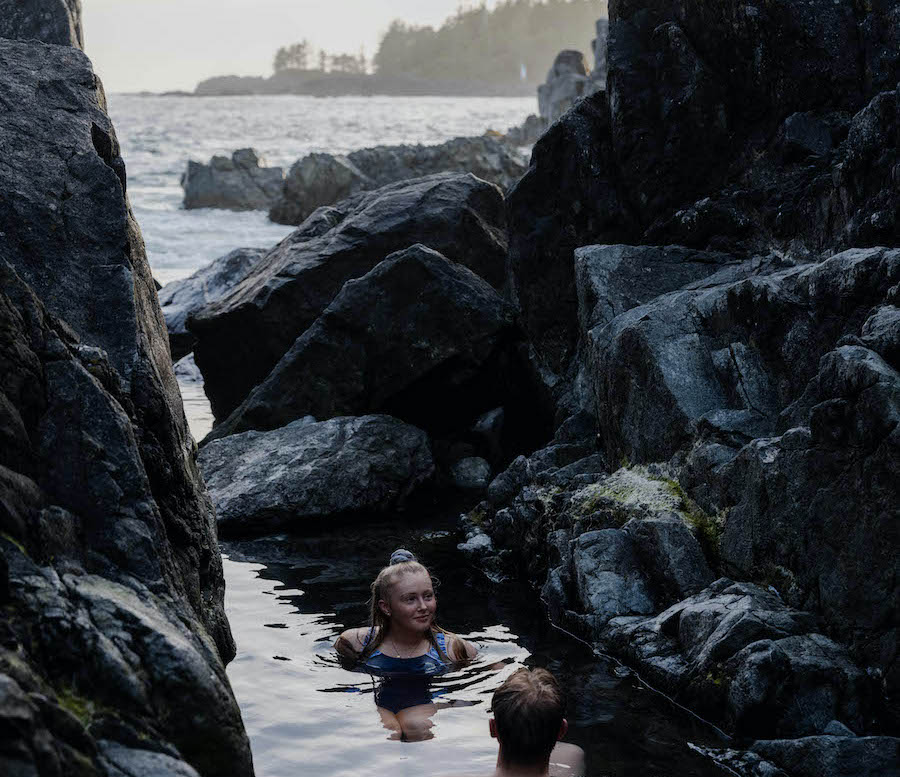 Maaqutusiss Hahoulthee Stewardship Society + Wildside Trail
The Maaqutusiss Hahoulthee Stewardship Society (MHSS) helps ensure the economic development of the Ahousaht Territories benefits the community and adheres to governance.
MHSS also manages water taxi transport and access to the Wildside Trail on Flores Island—a spectacular 11 km route through a canopy of lush, green rainforest and a sandy beach. It's considered "easy" on the difficulty scale with a mostly flat elevation, however note that the inland sections can be muddy.
Visitors interested in exploring Wildside Trail have two options: walk the trail one-way and arrange for a chartered pickup at the end (4-5 hours), or hike to the end of the trail and back at 22 kms (8-10 hours).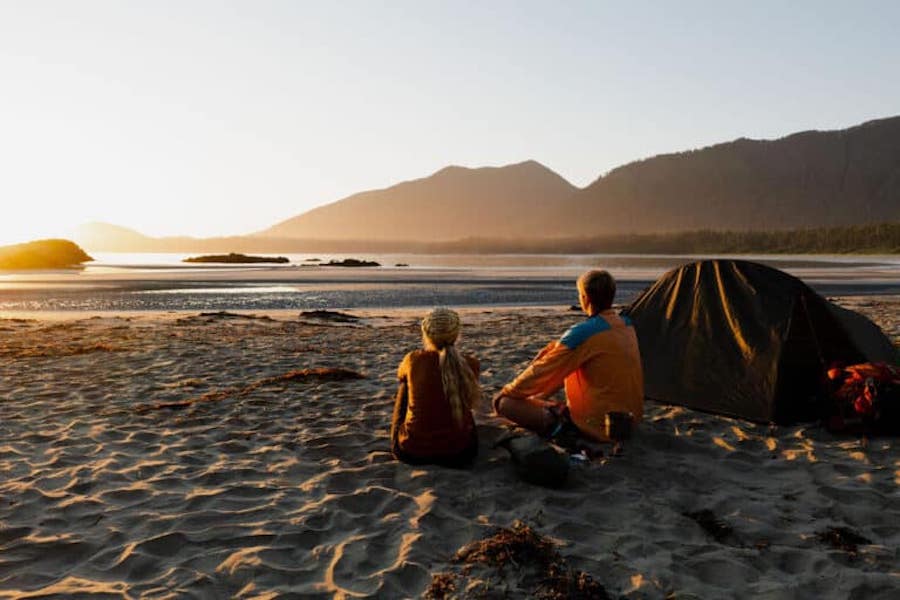 Rising Tide Surf Team
Rising Tide, or mułaa—which means 'rising tide' in Tla-o-qui-aht—is a non-profit surf team committed to supporting youths' inherent connection to the healing powers of spending time in the ocean and nature. Weekly coaching sessions with surf coaches in the spring, summer, and fall help young surfers aged 10+ to connect to the Nuu-chah-nulth culture and each other.
Together with the Tla-o-qui-aht Tribal Parks and the Ucluelet Culture and Language Department, the Rising Tide Surf Team created a Surf Map to educate visitors on the indigenous names of Tofino and Ucluelet's surf breaks and beaches. Find your favourite surf spots on the map and impress the locals with Tla-o-qui-aht lingo on your next surf trip!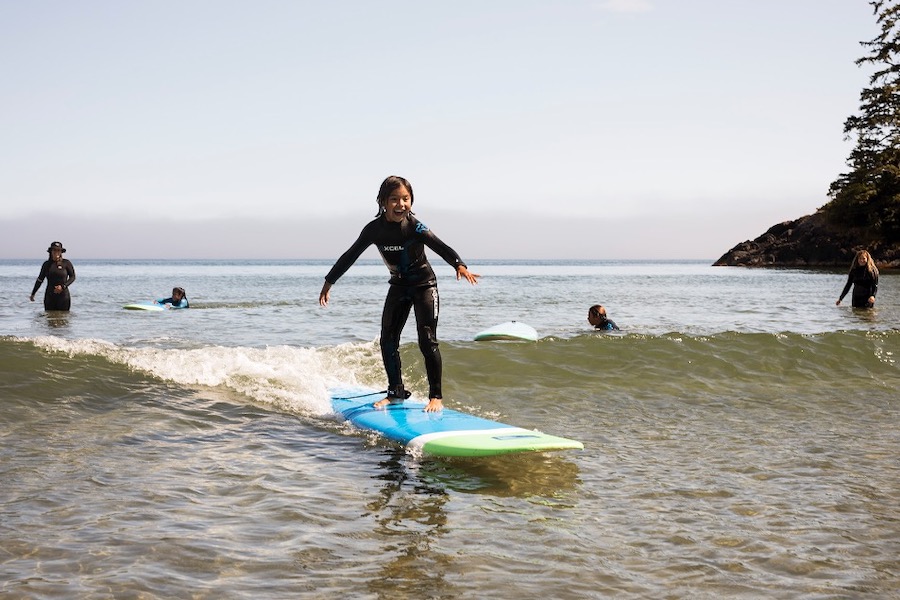 ~~~~~~~~
Photo credits:
Top banner & Hot Springs Cove: Ahous Adventures
NAAS Foods
Wildside Trail: Tourism Tofino
Rising Tide Surf Team