The Next Chapter: Meet the Nelson Family
In the first of our 50th Anniversary celebration posts, we caught up with Dave Pettinger who recapped the 42 legendary years that the Pettinger family owned and ran Pacific Sands Beach Resort. Next up, we talked to the Nelson family who purchased the Resort in 2015—another passionate, community-focussed family with strong bonds to Tofino.
~~~~~
At that time the company, Gordon Nelson Inc.—which also owned Ocean Village Beach Resort in Tofino—included Chris and Stephanie Nelson as well as Stephanie's brother and sister-in-law, Jason and Jeanne Gordon. Then in 2018, Nelson Investments Inc. became the sole owner of Pacific Sands.
The common thread amidst the family ties? A big love for Tofino.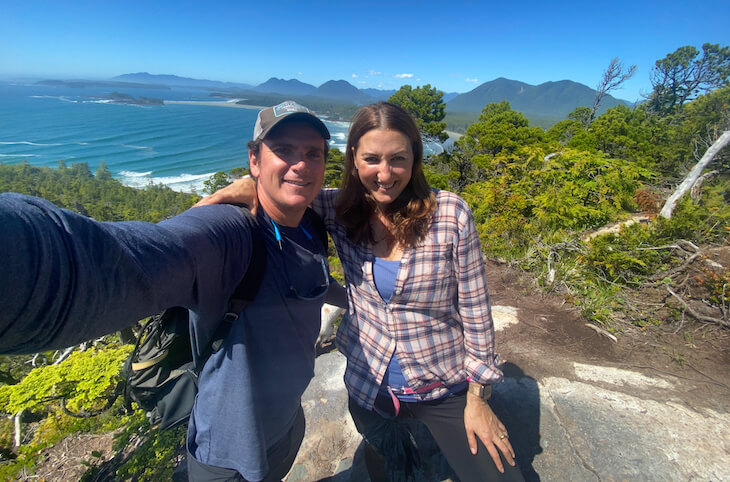 History + Homage
Born and raised in the Cowichan Valley on Vancouver Island, BC, Chris recalled trips to Tofino as a kid.
"Coming to Tofino was a treat for my family. Every couple of years, we'd come across the Island to camp and experience super-natural BC on the coast.

"My parents would tell stories about the early days on Long Beach when you could drive cars on the beach," Chris laughed. "There were actually drag races in the sand and they had a friend that was training to be a pilot that would fly them up to Tofino and land on the beach. Sounded like quite a wild place back then—the really wild west."
Chris's wife, Stephanie, first experienced Tofino on a trip when she was in kindergarten.
"I had an uncle who lived in Tofino and worked in forestry. We lived in Prince Rupert, BC and drove down to see him, which was quite a trek," Stephanie emphasized. "Tofino was such a tiny little town then! And I'll never forget that trip."
Fast-forward to today, and the word they both use now to describe their Tofino connection is: surreal.
"Coming from such small towns, and forging our way in the world to be in a position to now own an iconic Tofino property like Pacific Sands? It's surreal," stated Chris.

"It has never been lost on us that we've been entrusted by the Pettingers with something very special here, including an amazing Resort team led by Sabrina Donovan. Some team members have been here for over 30 years and have a strong sense of ownership and pride for the property. They're very much a 'Resort family' and we feel grateful to be so welcomed by them.

"We also have family friends that have been coming to Pacific Sands for generations that we've crossed paths with again.

"It's all interconnected and part of a responsibility we take very seriously, but most of all, it's a privilege to have shook hands with the Pettinger family and take the reins at Pacific Sands. And now we get to celebrate how far the Resort has come in 50 years, and carry on the traditions that so many new and returning guests enjoy."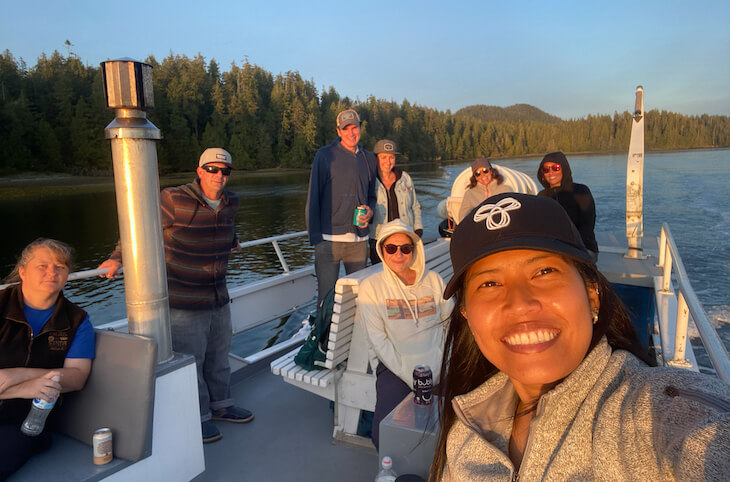 Good Times
Chris and Stephanie live in Vancouver with their daughter, Alexa, and get to Tofino when they can with family and friends.
"I'm an aspiring surfer that keeps trying, but one of the things I love about Tofino is fishing and creating memories with my friends out on the water; just hanging out and catching salmon, halibut, and tuna," smiled Chris.
For Stephanie, it's all about connecting with nature, spending time on the beach, and planning annual trips to Pacific Sands for friends and family.
"When we started bringing my daughter and her friends and cousins to Pacific Sands, it was such a great experience for them to see what it's like to live in small town," shared Stephanie. "Simple things like all of the kids riding bikes into town. Stuff we did when we were growing up in small towns vs. city living. A real eye-opener for these kids."

Chris chimed in with, "Over the last eight years, Alexa and her cousins learned how to drive golf carts around the Resort and then cars on logging roads going up to Virgin Falls."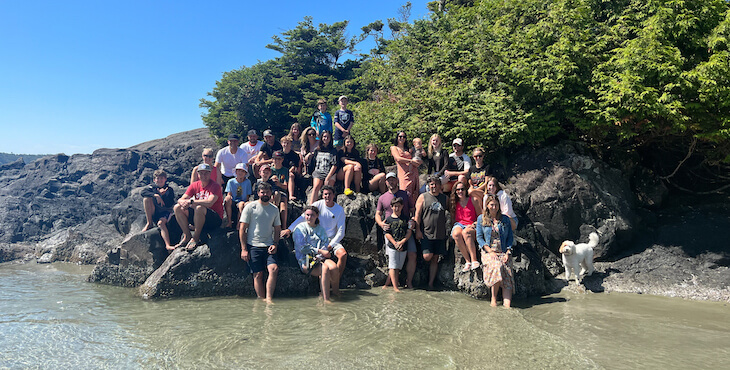 Embracing Community
When it comes to enhancing the guest experience with onsite services, the Nelsons are all-in on working with local businesses.
"We've approached tying in local businesses very intentionally," explained Stephanie. "Not only to provide services for our guests, but also to give Tofino businesses and members of the community exposure and help them grow."
Pacific Sands' onsite service partners and suppliers include: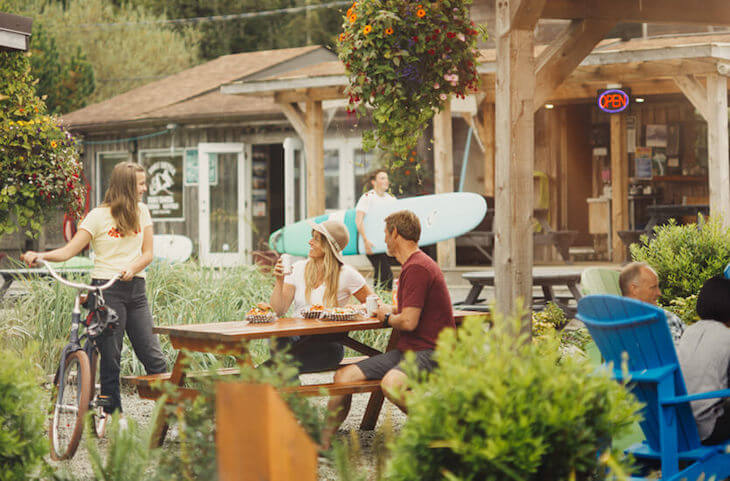 Building for the Future
With preliminary master resort planning underway, the Nelsons are very attuned to guest feedback.
"Pacific Sands is obviously very unique," stated Chris, "Many guests feel it's their special place, and we listen to their vacation wants, needs, and wins. Plus, as a family, we get that 'we' enjoy new and interesting things to do, see, and experience, so we look at the Resort through that lens for our guests."

"And from there, we try to be very thoughtful about how we approach improvements," added Stephanie.
Since purchasing Pacific Sands, the Nelsons have invested over $20M to expand and update the resort, including:
Renovating all 78 units that came with the property
Building 44 Oceanside Suites
Adding 11 new outdoor fire-pits
Updating and adding new BBQ areas
Adding new hot tubs to a selection of Beach Houses
This year, a further $1.2M in improvements are in the works, including eco-focussed initiatives like updating the geo-thermal system in the Beach Houses.
Chris closed with, "We're continually reinvesting in Pacific Sands and we want guests to know we value their trust in us."