Roy Henry Vickers Unveils New Art Dedication
In this final post of our series celebrating Pacific Sands Beach Resort's 50th Anniversary, our longtime friend and legendary Canadian artist, Roy Henry Vickers, brings it home with the unveiling of his symbolic, new artwork—Pacific Sands 2—commemorating his special relationship with Tofino, Pacific Sands, and the visionary Pettinger family that started it all in 1973.
~~~~~
Colourful History
As art enthusiasts all over the world can attest, Roy Henry Vickers' First Nations artwork is as iconic as it is instantly recognizable. From bold colours, stark lines, and shapes to symbol depicting nature, Roy's art has been given to royalty, including the late Queen Elizabeth II (who received the painting: A Meeting of Chiefs). He is the recipient of the Order of British Columbia, the Order of Canada, and a Queen's Golden Jubilee Medal. In 1993, Russia's Boris Yeltsin and former U.S. president Bill Clinton received artist's proofs of Roy's The Homecoming as the province's official gift during their Vancouver Summit. And in 2003, a video featuring Roy was part of the successful Vancouver 2010 Olympic bid.
All the accolades and fanfare, and yet, it all started right here in Tofino in the early 1980s when Roy settled into the community and honed his artistic skills. Despite being an aspiring, colour-blind artist, Roy decided he didn't want to just produce northwest coast artwork. "Tofino became my creativity," he declared, and he was inspired to use his instincts to develop his infamous colour palettes.
He made friends quickly, including Bill and Joan Pettinger—the original owners of Pacific Sands Beach Resort.
"I get emotional talking about the Pettingers," confessed Roy. "I have so much gratitude for that wonderful family and all the good times we had. It was Bill, Joan, and other Tofino hoteliers who encouraged me to build an art gallery in Tofino. That opened my world and changed everything. Since the (then) Eagle Aerie Gallery—now Roy Henry Vickers Gallery—opened its doors in 1986, we've hosted well over 15 million visitors."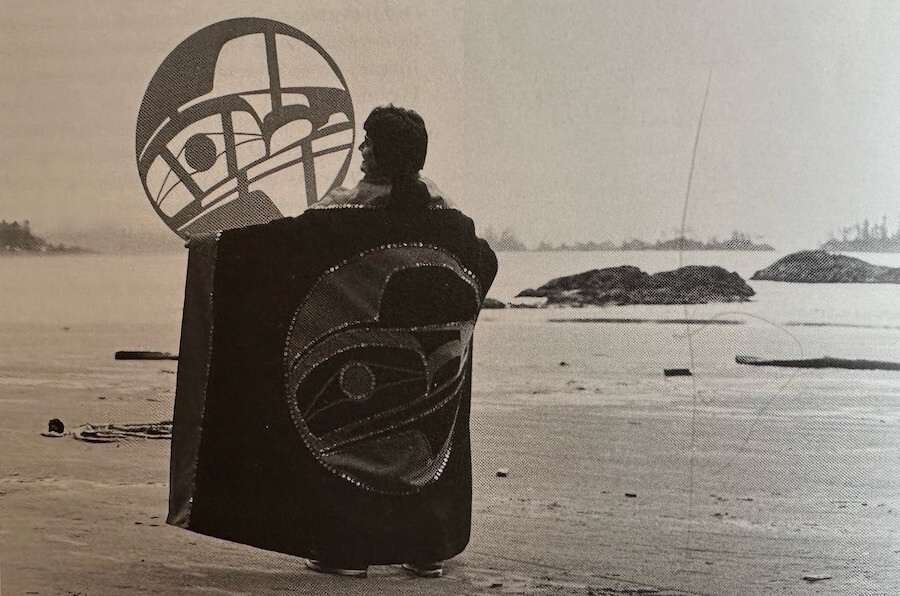 Decades of Art and Friendship
"What's extra-special about celebrating Pacific Sands' 50th Anniversary is it's my 50th Anniversary as an artist," smiled Roy. "Sharing 50 years with Pacific Sands is so symbolic."
As symbolic as the art dedications over the years.
"In 1983, the Pettingers commissioned me to create the artwork 'Pacific Sands' to support the West Coast Whale Research Foundation," recalled Roy.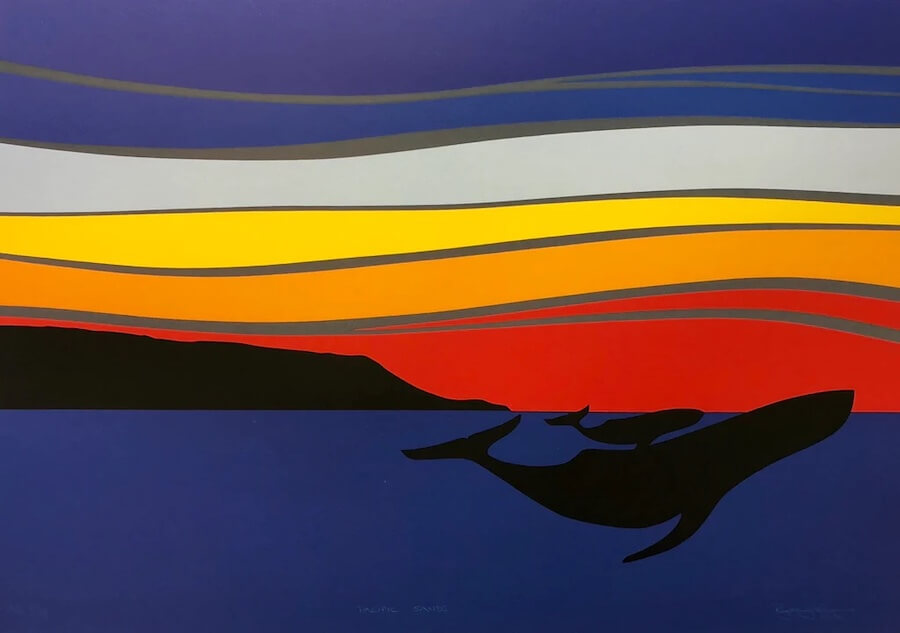 "Then in 2014, I unveiled two new works in the Gallery to celebrate 40 years as an artist. Of course, it was also Pacific Sands' 40th Anniversary, so I dedicated one to Bill and Joan, calling it 'Sunset Point' after the rocky point at Pacific Sands, which has since been renamed Pettinger Point."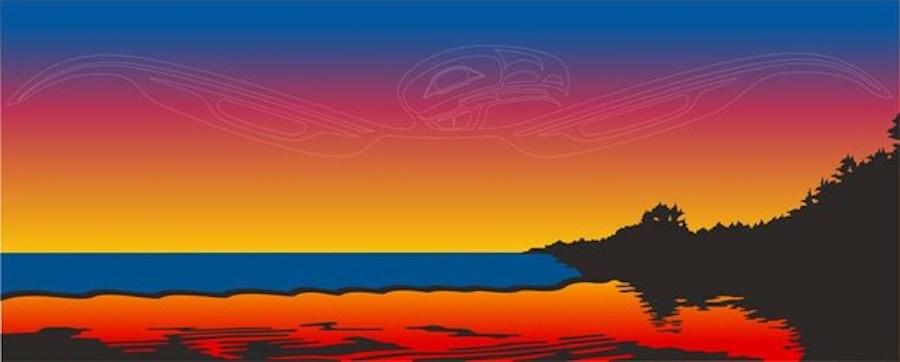 "So, when Pacific Sands approached me to create a commemorative artwork for their 50th Anniversary, it was so clear what I wanted to do."
The Unveiling of Pacific Sands 2
On April 15, 2023, Roy unveiled Pacific Sands 2 in a presentation at the Resort attended by guests, media, Pacific Sands' GM, Sabrina Donovan, and owner, Chris Nelson.
Roy passionately walked everyone through his vision.
"In the original 'Pacific Sands' art piece, the mother and baby whale are in the water. In 'Pacific Sands 2' the baby whale is celebrating birth and leaping out of the water, with Cox Point on the left and Pettinger Point on the right. There are two huge eagle wings; I am the eagle. The eagle is my crest and my actual name is Eagle Rock.

"It illustrates that Pacific Sands has grown with the times. The new eagle has landed with new owners who appreciate and respect the importance and the heritage of the land.

"The Resort is celebrating 50 years and honouring this beautiful place, and if I had not become friends with the Pettingers and let them take me under their wing, I would not be where I am today."
Scaling Up
Roy is now busy recreating a large-scale, original painting of Pacific Sands 2 that the Resort has commissioned.
"This is going to be a spectacular 4 x 5 foot piece. It's quite a time-consuming painting process— hindered by some body pain from injuries when I was younger—but my 76-year-old self is committed to working away at it, day by day!"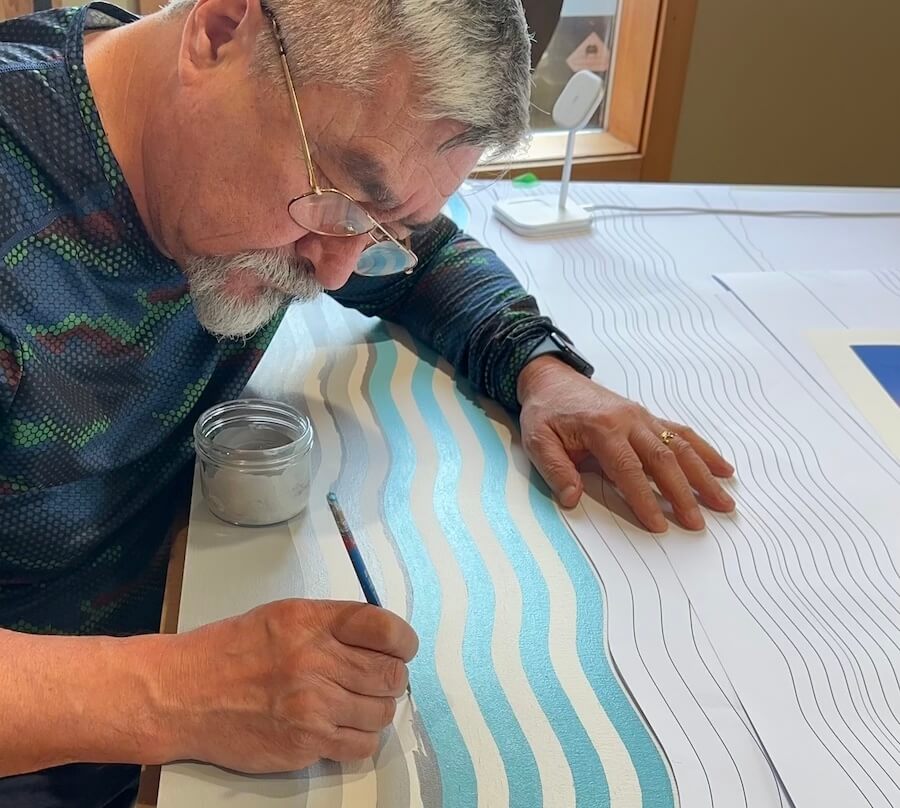 Original paintings are a rare (and soon-to-be-cherished) departure from Roy's typical art process, which is a digital combination of layers depicting lines, colours, and the vision for the story he wants to tell. Watch this trailer for the movie, "The Making of a Roy Henry Vickers Print" to get a closer look at how Roy creates his art.
More on Roy
Read more about Roy Henry Vickers in this 'Local Characters' post from a couple of years ago featuring more of his artwork along with an exclusive video he filmed for Pacific Sands where he reflects on his Tofino memories, including his role in helping with the Clayoquot Sound logging protests in the 1990s.